Spring 2022 Faculty News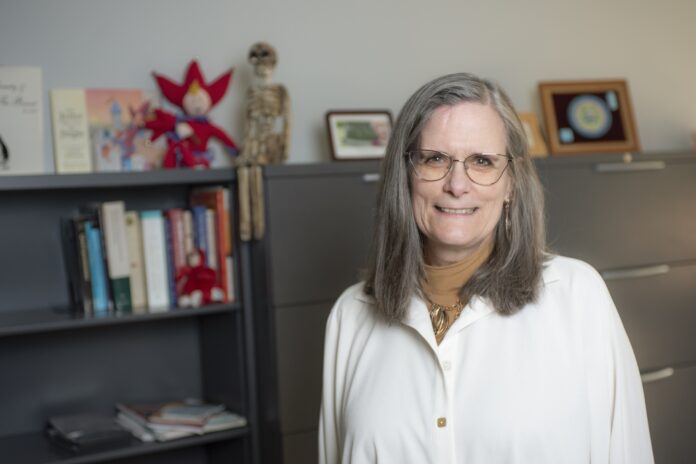 Karlynn BrintzenhofeSzoc, Dr. Renato LaRocca Endowed Chair in Oncology Social Work
Dr. Karlynn BrintzenhofeSzoc was recently interviewed by UofL News about her appointment as the new Dr. Renato LaRocca Endowed Chair in Oncology Social Work at the Kent School of Social Work and Family Science.  You can read the interview in this article, "Losing her mom to cancer at a young age led UofL's new endowed chair to a career in oncology social work."
---
Faculty news
Dr. Sharon Moore received the 2022 University of Louisville Presidential Excellence Award for Distinguished Faculty Award for her Service to the Community, the Commonwealth and/or the Region. Learn more.
Edgardo Mansilla received the 2022 University of Louisville Presidential Excellence Award for Distinguished Teaching Professor Award. Learn more.

Dr. Becky Antle received the Research Collaborator of the Year Award on March 29th at the inaugural award ceremony for the new University of Louisville Office of Research and Innovation EVPRI research awards. Learn more.  
Dr. Antle was also part of the research team led by Dr. Jessie Wright associated with computer assisted treat for depression.  The article, "Effect of Computer-Assisted Cognitive Behavior Therapy vs Usual Care on Depression Among Adults in Primary Care," was published on the JAMA Network and featured in UofL news. Learn more. https://www.uoflnews.com/section/science-and-tech/uofl-research-shows-computer-assisted-therapy-opens-doors-to-depression-relief

Dr. Shantel Crosby and Dr. Jennifer Middleton have joined the faculty for the Center for Trauma Resilient Communities. Dr. Middleton is the Center's Senior Director of Research and a faculty member. Dr. Crosby joined the faculty of the Center with an emphasis on research/evaluation and school practice. Learn more about the Center 

Dr. Heather Storer is a featured author for the ASU Office of Gender-Based Violence Mainstreaming Gender inserts. The insert is entitled, "Mainstreaming Gender, Context Matters in Developing a Research Agenda to End Violence and Promote Healthy Relationships. Dr. Storer is also leading a new grant funded partnership to expand SurvivorLink through the Public Health Americorps program. Learn more about the grant and partnership.  


Drs. Andrew Winters, Anita Barbee, and Emma Sterrett-Hong had an article, "Approaches from Related Fields to Integrate Anti-racist Initiatives into Child Welfare," published in the The Child Welfare League of America Child Welfare Journal  Vol. 100, Number 1 & Number 2: Transforming Child Welfare through Anti-Racist Approaches. The articles in this double issue focus on the underlying issues that perpetuate and support the overrepresentation of children of color and anti-racist approaches that improve child and family outcomes and address racial inequities. The authors discuss individual and community consequences of racial disproportionality and disparities, experiences of racism and bias among children and families of color involved in child welfare, strategies for applying anti-racist approaches to child welfare policies and practices, and much more. 
Stephanie Prost was selected to join the JCOIN LEAP Investigator Program. Prost was admitted to the 2022 cohort of the Justice Community Opioid Intervention Network (JCOIN) Learning Experiences to Advance Practice (LEAP) Investigator Program funded by the NIH Heal Initiative
Additional information about the LEAP Investigator Program can be found on the website:https://www.jcoinctc.org/leap-2022/