Spring 2022 BSW Program News
2022 Champions for Change BSW Student Spotlight: Talynn Johnson
Talynn Johnson, a Senior BSW student from Hopkinsville, KY chose to study social work because she wanted to leave an impact on children. "I watched a show called "Girls Incarcerated" on Netflix, and the girls talked about how their social worker made a huge difference on their lives. It was then that I looked more into social work as a profession. It has been through my classes, that I have discovered my heart for helping, and social work requires the heart to help and serve vulnerable populations." Continue reading.
---
BSW Capstone Award and Poster Presentation
Please explore the posters our BSW students have created to make a difference in social work service agencies and/or the community.
After careful consideration, and the tie breaker by Dr. Charles A. Turner, Jr., the winner of the Capstone Poster Presentation is Alexandra Williams!  Congratulations to Alexandra, and all BSW students, for the hard work in completing the project. 
---
Social Work Living and Learning Community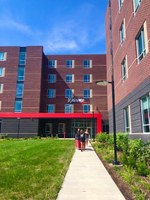 The Social Work Living Learning Community (LLC) brings together BSW students who want to pursue a career in social work and/or those who want to join supportive community agents. The LLC focuses on academic engagement, mentor support, peer connections and student involvement. It offers opportunities to develop a wide range of social, professional and community experiences.  More information available here.