Part Time Faculty Spotlight: Mané Martirosyan
Mané Martirosyan was born and raised in Armenia, where she graduated from high school and attended university for a couple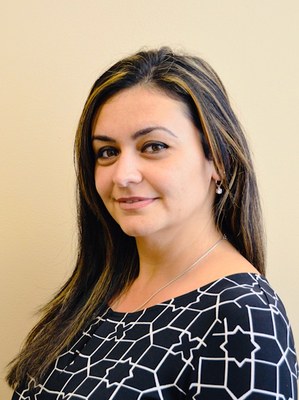 of years majoring in foreign languages. She moved to the United States at the age of 20, graduated from UofL with a BA in Sociology in 2006, and graduated from the Kent School of Social Work with a MSSW in 2013. Since 2003, she has been employed with the Louisville Metro Department of Corrections occupying different civilian positions. "After receiving my MSSW, I was promoted to the Senior Social Worker position in 2015, which gave me the opportunity to develop and implement two successful discharge planning programs helping individuals suffering from homelessness, substance use and mental health issues to break the cycle of incarceration." Previously, Mané has conducted groups for the incarcerated population enrolled in the jail's substance use program and has also conducted Batterer Intervention programming groups with men and women court ordered to participate in the program.
In 2018, Mané began teaching part time at Kent School. "I am most excited about the compassion and tolerance that Kent School teaches. As a student, I loved being part of Kent School, so when I was offered the courses to teach, I was very happy to get back to my favorite department." Martirosyan has always enjoyed working with people, so when she heard about the social work profession as it is here in the United States, she knew that the knowledge that comes with the degree would empower her to be better at her profession, open more doors for her to help others, and make her a better advocate for populations that cannot advocate for themselves.
Mané teaches "Motivation and Change" online and on campus and will start teaching "Incarceration and Social Work" in Spring 2020 for the Forensic Social Work specialization. "So far at UofL I've only taught Motivation and Change, so by default, this is my favorite course to teach. I truly believe in what I teach, so that's what makes this course amazing to teach. I know that students benefit from gaining the skill of Motivation Interviewing." The instructor brings 16 years of experience working with individuals with substance use disorder/mental illness, as well as homelessness into the classroom often sharing her experience in the classroom to bring clarity to the subject.  "I enjoy being in a room with students who are wanting to learn. I love that I can share my knowledge entwined with my experience with my students, and that my ambition for teaching can help the students be better learners." Martirosyan feels one of the most challenging aspects of teaching is when a student enrolled in the distance learning course is not very responsive. "It's a little challenging not to be able to see the students every week face to face to understand how they're doing in class. But it's not a big enough challenge to keep me from teaching!"
Outside of the classroom, Martirosyan's research interests is in Reentry.  This topic is closely related to the work she does in the community. "I know discharge planning works wonderfully as the first step to successful reentry. I'd like to see more jails/correctional settings invest in programs that act as the bridge between the person and community resources." Mané is currently working on the expansion of Medication Assisted Treatment (MAT) in jail, as well as preparing to give presentations for two workshops at the American Jail Association annual conference in Colorado in April of 2020.
Martirosyan credits her mom for influencing her the most in her life. "She has always been this bright and tireless light for my brothers and I, instilling great life values in us, and always working for possibilities and better future without giving up. I would not be where I am at now if it weren't for her guidance and her selfless love for me."  Mané's favorite past-time is visiting new places. She likes to spend her free time travelling, dancing, eating different foods, playing board or card games with her kids.