Part-Time Faculty Spotlight: Carl Enoch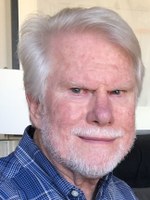 Part time faculty member, Carl Enoch, has taught at the Kent School for 10 years. This semester he is teaching two online sections of Social Policy, a section of BSW Field Seminar, and is serving as a Field Liaison. Enoch enjoys his interactions with students who he says "bring a unique perspective to learning which is influenced by their age and experience." His favorite courses to teach are Social Policy, because "it provides students with a systems view of social work and emphasizes the importance of advocacy given our service to venerable populations." Also, he enjoys teaching Field Liaison and Field Seminar, because "it is in Field where students can apply what they are learning in the classroom."  Carl has shared more information about himself in this interview.
Carl, tell us about yourself.
My husband is always telling me to make a long story short, so I'll try! I was born and raised in the red hills of west Kentucky on a small dairy and tobacco farm. I attended the local regional elementary school and the new (at that time) the consolidated high school in Murray, KY. A major influence was church, Southern Baptist and the most conservative kind. Since there wasn't a lot to do in those days much time was spent involved with church activities. It didn't take me long as a teen to determine that the conservative bent of west Kentucky Southern Baptist wasn't for me but stayed on as something to do.
Being relatively poor, and I've come to understand rural and urban poverty are very different, in order to attend college I lived at home, worked the farm and attended Murray State University. Never one to make up my mind I had 2 majors, pre-med and English, and a minor in Sociology. All have been helpful in my move to social work, science taught me critical thinking, English taught me how to write and opened up a world of reading, and sociology gave me a taste of social issues.
Pursuing none of those I moved to Louisville and enrolled at the Southern Baptist Theological Seminary. In the years I was there (1970-1973) it was still a premier theological seminary that encouraged study outside the narrow confines of thought in which I had been raised. It was a wonderfully challenging experience which allowed me to pursue a variety of subjects of interest, Old Testament, missiology (it was the heyday of Liberation Theology), and pastoral care.
My first job out of seminary was as pastor of a congregation composed of persons who were deaf. Yes, I learned sign language starting in 1971 and still use it in a variety of settings to this day.
In the early 1980's after having interpreted in a number of settings I decided that Social Work was the profession that could be most helpful to people with whom I was working. Thus, I enrolled first at Southern Seminary in their Social Work Program before transferring to Kent School to earn my MSSW.
Then I spent 25 years, most as a supervisor, for what was then called the Department of Human Services in what was to become Metro Government.
I started as a Field Liaison in 1998, along with many other local practitioners as the school shifted from the use of full-time faculty to part time faculty in Field.
After retirement from Metro Government in 2010, I was asked by Dr. Noell Rowan to teach Policy and Practice in the BSW Program. For the last 10 years I've continued to teach, now mostly in the Social Policy sequence.
Where else have you instructed and what brought you to the Kent School of Social Work?
After graduating from Southern Seminary in their Evening School Program, teaching Deaf Ministries and Sign Language. The school was quickly becoming more conservative and I resigned.
I taught a course in Social Work and HIV/AIDS at Spalding's School of Social Work for three years. The course had been developed and previously taught by Dr. Helen Dienes. It was at Spalding where I first met Dr. Rowan, together we developed a course on Chemical Dependency. She taught the day section, and I taught the evening section. It was working with her that I developed an appreciation for the effort that goes into course development.
Who has influenced you the most in life and why?
At my age it would be impossible to list all those who have impacted my life and work so here are a few. Dr. Wayne Oates, one of the originators and giants in the field of Pastoral Care. Professor Martha Fuller who gave me the tools to work with students in Field. Dr. Rod Barber who instilled a passion for Social Policy. Dr. Noell Rowan who mentored me in the fine art of college teaching. Dr Crystal Collins-Camargo who has helped me conceptualize and critically think about both the issues of Social Policy and how to teach it.
Why were you interested in studying social work?
The core values of social work resonated with my worldview that has developed over time. The emphasis on starting where the client is and recognizing that there are both personal and social forces that impact each individual.
What about the Kent School of Social Work most excites you?
The constant self-evaluation to become a more diverse and just place of learning as demonstrated by the focus on Black Lives Matter, White Supremacy, and the intersectionality of marginalized populations.
What are your research interests?
The intersectionality of race, sex, sexual orientation, and gender as related to poverty and by extension justice.
Why is this topic(s) important to you?
As a cis gender gay man, I've experienced discrimination, but I'm able to recognize the privileges of being male and white that other marginalized persons do not have.
Outside of the classroom, Enoch's interests include travel, the performing arts, and collecting modern art.