MSSW Program News

MSSW student, Lenora Bradley, will celebrate her 18 year journey leading to the August completion of her bachelor's degree at December Commencement 2021. Read Lenora's story in UofL news here: http://ow.ly/fIJm50H4Kai
---
MSSW students, advisors, and staff enjoyed music and lunch together in the Student Activities Center on November 11th.  Thanks to everyone for coming out to the Graduate Student Appreciation week lunch event!
---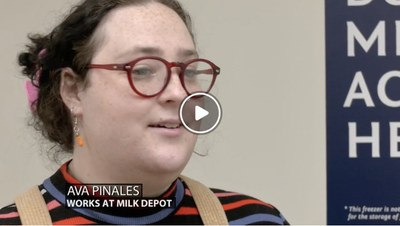 Kent MSSW student, Ava Pinales, was recently featured on WDRB news at her practicum site, Zora's Cradle, a maternity program that provides essential services to homeless, expectant mothers. The founder and Executive Director of Zora's Cradle, Shemika Whiteside, is a Kent School alumni and a part-time instructor here at Kent. You can watch the news segment and learn more about Zora's Cradle here: http://ow.ly/eptp50H3h9x
---
KSU Students Visit the MSSW Program

The MSSW Program hosted Kentucky State University students (pictured) on campus this Fall for a visitation day to learn more about the Kent School of Social Work and the MSSW Program. The visitation day was part of the HBCU Cardinal Express to Success initiative. Read more
---

The HBCU Cardinal Express to Success program is designed to increase the representation of advanced social work practitioners of color prepared to provide practice with diverse, vulnerable and marginalized individuals, families, groups, organizations, and communities. This graduate MSSW program will focus on recruiting students who are currently pursuing or have completed a Bachelor of Social Work degree at a Historically Black College and University (HBCU).
The Kent School of Social Work has an accelerated admissions process and scholarship opportunities for HBCU students and recent graduates. Through our programmatic offerings of mentoring and networking opportunities, professional development, career placement support and scholarships, the program will strive to provide the support the students need to be successful during their social work education and in their professional social work careers.
More information about the program is available here:http://louisville.edu/kent/academics/hbcu-cardinal-express-to-success/
---
Want to Become a School Social Worker?
The School Social Work Specialization is designed to prepare students for careers in school settings. For more information contact Margret Nance mmharr06@louisville.edu