MSCFT Program News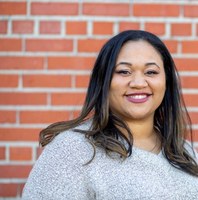 The Couple & Family Therapy Program is excited to announce Tiffany Farmer, MSSW, LMFT (pictured left) has joined the program as the Clinical Director. Tiffany graduated from the MSSW Program with a specialization in couple and family therapy in 2016. As a Licensed Marriage and Family Therapist, she works with multiple populations and specializes in working with adults who experience patterns of relationship difficulties. She is particularly interested in adult attachment and childhood trauma and their effects on relationship stability. Tiffany owns a group private practice—Best Life Mental Health Services, LLC—which focuses on inclusive and accessible services for all, especially historically marginalized populations. She has been involved with Therapists for Protestor Wellness, activism in the community, and sits on the Kent School Alumni Council. Tiffany was born and raised in South Central Los Angeles, California and became a therapist out of a deep commitment and belief in the spiritual and healing power of the bonds that we develop in our lives, the journeys that we embark on together, and their ability to help us transcend the oppression in our communities. As Clinical Director, Tiffany will help coordinate practicum placements for our students earning a Master of Science in Couple and Family Therapy (MSCFT) and collaborate with the Field Office to vet placements for our dual-degree MSSW-MSCFT students. She also helps coordinate the Relationship Solutions clinic, a clinic on Shelby Campus that provides low-cost counseling to couples and families. Please join us in welcoming Ms. Farmer!
Relationship Solutions Clinic
The Relationship Solutions Clinic is currently accepting new clients who are seeking couple and family counseling. Do you know someone struggling to connect with a partner? Or are you or a loved one tired of family conversations always ending in arguments. The Relationship Solutions Clinic is an innovative counseling environment coordinated by the Couple & Family Therapy Program in the Kent School. We work with couples and families to decrease conflict, improve communication, and enhance the well-being of all family members.
Services are provided at low cost by graduate-level students working under the direct supervision of a licensed marriage and family therapist and trained supervisor. Therapists provide an inviting, non-judgmental atmosphere to help clients create the relationships they want to have.
Sessions start at a low-cost flat free of $20, and sliding scale options are also available. All sessions include telehealth at this time, and we plan to offer in-person sessions this fall. If you are interested in scheduling an appointment, please contact the Clinical Director, Tiffany Farmer, at (502) 547-9612 or tsmcco02@louisville.edu.
Dr. Eli Karam's Podcast
Dr. Eli Karam, a full professor for the Couple & Family Therapy (CFT) Program, is continuing his run as the host of the AAMFT Podcast. He interviews prominent and influential contributors to he field of marriage and family therapy. He has been recognized nationally for his contributions to the field through this work by receiving the 2020 AAMFT Excellence in Media Award. Dr. Karam continues to be an asset for the CFT Program, by teaching several of the core CFT courses for our students and presenting cases from his own private practice. Dr. Karam's podcast can be found wherever you get your podcasts.