Fall 2019 Faculty News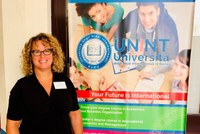 Dr. Jennifer Middleton attended the International Congress on Law and Mental Health Conference in Rome, Italy and gave a presentation on "Project STAAR (Survivors of Trafficking Creating Art, Agency, and Resilience): Utilizing Photovoice Methods to Better Understand the Lived Experiences of Childhood Sex Trafficking Survivors in the United States" Contributing Authors: Drs. Lesley Harris and Maurice Gattis, and Doctoral Student: Jaime Thompson. Contributing Community Partners: Center for Women and Families (Rebecca Goggin, MSSW) and Kristy Love Foundation (Angela Renfro). Social workers, social work educators and researchers attended this conference that was founded on the belief that issues arising from the interaction of law and mental health can be best addressed through multidisciplinary and cross-national approaches, drawing on law, the health professions, the social sciences, and the humanities.

Dr. Sunshine Rote, co-wrote the article "We Need to Better Prepare for an Aging and Hispanic America", that was published in The University of Texas at Austin news. You can read the article online here.

Lori Paris, a medical foster home program coordinator and instructor at Kent, was interviewed by the Today Show. You can read the featured story "Foster Families for Veterans Open their Homes, Hearts" on the Today.com website here on Today.com
Dr. Maurice Gattis, was featured on Spectrum News, WLKY TV, and UofL News. Dr. Gattis led a new campaign to help parents better understand their children that identify with the LGBTQ community. The campaign, "Embrace the Journey", launched a website in October to provide resources to help parents deal with mental health issues including depression, anxiety and even thoughts of suicide. Visit www.embracethejourneylou.org  https://embracethejourneylou.org/
Dr. Heehyul Moon was accepted into a two year Training Program, Interdisciplinary Aging Research to Address Health Disparities in Alzheimer's Disease and Related Dementia, the two-year scientific training program for emerging scholars is funded by the National Institute on Aging.
Dr. Anita Barbee and Dr. Becky Antle received an award for article of the year for 2018 from the Journal of Public Child Welfare for an article that they co-wrote with others entitled "Factors affecting turnover rates of public child welfare front line workers: comparing cohorts of title IV-E program graduates with regularly hired and trained staff." This article focuses on long term research this team has been doing in collaboration with EKU and the Kentucky Department for Community Based Services around a very important topic to the children and families in this state. Journal of Public Child Welfare. ISSN: 1554-8732 (Print) 1554-8740 (Online) Journal homepage: https://www.tandfonline.com/loi/wpcw20