MSCFT Program News
Student Spotlight: Zoe Schaver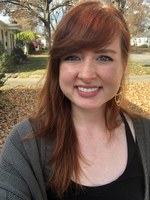 Zoe Schaver, a MSCFT/MSSW double major, has lived her entire life in Louisville, apart from spending her undergraduate years in Chapel Hill, North Carolina.  Zoe enjoys yoga and barre classes and attends Unity of Louisville. "If I had more time, I would love to be more active in student activist groups."
She chose to attend the Kent School of Social Work for several reasons. "My mom went to Kent and had great things to say! Also, I deeply love Louisville and wanted to attend school in my home city so that I could get more familiar with what social work looks like here." Zoe, a fellow with the American Psychological Association's Interdisciplinary Minority Fellowship Program, had thought about becoming a journalist before deciding that she wanted to connect with people in a more meaningful way and decided to pursue social work.  "I chose the social work route to become a therapist because I strongly believe that you can't fully understand people without understanding social systems and institutional oppression." Continue reading.
---
CFT Virtual Prospective Student Sessions
Please join us for one of the on-line CFT Prospective Student sessions and hear from a CFT faculty member about the unique, social-justice-focused clinical training offered by the Couple and Family Therapy Program in the Kent School of Social Work. We also will discuss opportunities to specialize in Alcohol/Drug Counseling or to receive a dual masters degree in social work and CFT in this one of a kind program.
CFT Virtual Prospective Student Sessions are offered at the following times:
January 12 – 6:30pm
---
Relationship Solutions Clinic
The Relationship Solutions Clinic is currently accepting new clients who are seeking couple and family counseling. Do you know someone struggling to connect with a partner? Or are you or a loved one tired of family conversations always ending in arguments. The Relationship Solutions Clinic is an innovative counseling environment coordinated by the Couple & Family Therapy Program in the Kent School. We work with couples and families to decrease conflict, improve communication, and enhance the well-being of all family members.
Services are provided at low cost by graduate-level students working under the direct supervision of a licensed marriage and family therapist and trained supervisor. Therapists provide an inviting, non-judgmental atmosphere to help clients create the relationships they want to have.
Sessions start at a low-cost flat free of $20, and sliding scale options are also available. All sessions include telehealth at this time, and we plan to offer in-person sessions this fall. If you are interested in scheduling an appointment, please contact the Clinical Director, Tiffany Farmer, at (502) 547-9612 or tsmcco02@louisville.edu.