Dr. Emma Sterrett-Hong awarded the 2020 LGBT Center Advocate Award
Congratulations to Dr. Emma Sterrett-Hong who was recently awarded the 2020 LGBT Center Advocate Award.  Each year this award is presented to honor a faculty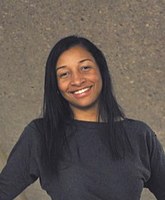 and/or staff member who has helped to build a more inclusive and welcoming campus community, and has made a positive impact through their advocacy for LGBTQ+ people campus-wide.
Sterrett-Hong said, "I am so humbled to be receiving this award.  I am honored to work alongside so many talented and brilliant LGBTQ students and community members.  I look forward to continuing to be in partnership with colleagues, collaborators, and friends to continue pushing for equality, justice, and liberation for all LGBTQ people in our community and nationally."
Dr. Sterrett-Hong was recently appointed the Associate Dean of Equity and Inclusion for the Kent School of Social Work.  She has been a member of and chaired the Kent School Diversity and Social Justice Committee, helped create and advise Shades (a university student group for LGBTQ+ students of color), served as a Board member for West Louisville Community Ministries (providing emergency rental, utility, and medical financial support to clients in predominately ethnic minority and from low-income communities), and was a founding Board member of Sweet Evening Breeze (provide LGBTQ+ affirming services to adults experiencing homelessness and housing insecurity). More information about the LGBT Center Advocate Awards is available here.