Dr. Collins-Camargo appointed interim dean for Kent School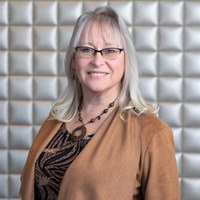 Interim Provost Gerry Bradley recently announced that Dr. Crystal Collins-Camargo will serve as interim dean of the Raymond A. Kent School of Social Work and Family Science. Her appointment is effective June 1. Collins-Camargo has served as associate dean for research since 2017. She said, "I am honored by the opportunity to work with our excellent team at Kent School to continue the important work we have been doing under Dean Jenkins leadership and support the school as we continue to make strides and prepare for a new permanent dean." Bradley said that Collins-Camargo has built the Kent School's research enterprise to one of its strongest points. "She is thoughtful, reliable and action-oriented," said Bradley. "I am confident that she will be an engaged and attentive leader for the school as interim dean."
A formal dean search for the Raymond A. Kent School of Social Work and Family Science will begin this fall. According to Interim Provost Gerry Bradley, a search committee will soon be formed and search firms are currently being interviewed. Faculty and staff member elections for the search committee will begin this month within the school, followed by student, alumni and additional faculty member appointments at the end of May. In the fall, the search committee will begin meeting and reviewing dean candidates.