Dr. Adrian Archuleta returns to Kent after a sabbatical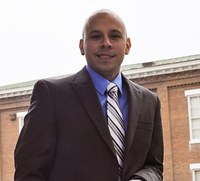 Associate Professor Adrian Archuleta took a sabbatical during the Fall 2022 semester. He was able to work on research studies, submit several manuscripts to peer-reviewed journals, give a presentation at a national conference, and assist in conducting a statewide needs assessment during his time away from Kent. Learn more about Dr. Archuleta's research and how his sabbatical provided him with the time he needed to work on advancing his research in this interview.
Why did you decide to take a sabbatical?
Archuleta: I decided to take a sabbatical so that I could dedicate time to advancing my research. The topics that faculty choose to pursue are often very complex, and it is challenging to make room for the uninterrupted space needed to do the type of meaningful thinking that advances our work. The time made available during a sabbatical addresses the stop-and-go nature that faculty experience in addressing their teaching, service, and research responsibilities, and allows for an intensive focus on their research endeavors. This allows faculty to produce the creative projects and outcomes that make Kent visible as an institution to other academics and practicing social workers across the country. All social work programs have the charge to produce high-quality social work graduates. It is our research that often sets us apart from other institutions. It is great that the University of Louisville and Kent School administrators are supportive of faculty who pursue this opportunity.
What did you accomplish during this time?
Archuleta: I feel I was very productive during my sabbatical. I was able to get eight manuscripts under review with different peer review journals. The manuscripts were associated with several studies examining negative social exchange, social networks, and health and mental health in different populations. In addition to the manuscripts, I presented a poster presentation on this same topic at the International Conference on Community Psychology and prepared an abstract for consideration for the upcoming Society for Social Work and Research conference. During my sabbatical, I was also able to work on completing two research studies. I was able to complete stages one and two of a bibliometric social network study examining the publishing patterns of faculty identified as influential social work scholars. I also was able to complete a follow-up study to the negative social exchange and quality of life study. The follow-up study examined acculturation, negative social exchange, and mental health among Latinxs adults in the United States. To my knowledge, the studies I have conducted are the only studies on acculturation, negative social exchange, and mental health among Latinxs adults, which I believe will fill an important gap in the literature. Lastly, I was able to assist a colleague in conducting a statewide needs assessment on the needs of refugees and providers of refugee services in the state of Kentucky in collaboration with KOR (The Kentucky Office for Refugees).
What is the impact of this work in advancing social justice?
Archuleta: Different aspects of my work involve the needs of different populations, so the advances in social justice depend on which aspect of my work is the focus. For example, my work on negative social exchange in the broad U.S. population emphasizes the importance of understanding social and psychological determinants that act as risk and protective factors for social isolation and poor mental health outcomes among different groups. My work focused on Latinxs and negative social exchange examines similar problems, but includes Latinxs' experiences with culture and forced assimilation as a factor that adversely impacts their health and social inclusion in communities across the U.S. My work with refugees addresses a similar need to that addressed in my work with Latinxs. While the needs of refugees and other ethnic groups may be different, there are overlapping similarities regarding adaptation and inclusion in receiving communities that are central to their health and well-being. Ultimately, my goal is to represent the experiences of underrepresented populations, who are often not the focus of social science research. Ensuring adequate representation helps to generate findings that are directly applicable to populations and represent their needs and perspectives.
What advice would you give other faculty members who plan to take a sabbatical?
Archuleta: While faculty may be excited about the additional time to focus on their research, self-care is still important throughout the process. The tendency might be to leave oneself empty in pursuit of one's research goals because we rarely have opportunities for uninterrupted time. However, much like all the work that social workers do, it can be physically and emotionally draining. Several suggestions for a successful sabbatical are: (1) develop a strong plan and goals that are accomplishable, (2) diversify your projects so that they balance what you are required to do and the skills needed to accomplish them (keep you motivated, and interested), (3) include something you are passionate about (something that feeds your soul), (4) establish boundaries with others (you might be trying to carve out uninterrupted space but the world keeps moving….and wanting), and (5) build in time for self-care. You still have to come back to work, so leaving yourself empty is not a good idea. It may also be helpful to develop a plan for returning from sabbatical to retain some of the self-care and healthy work practices you were able to establish with more time.
To learn more about Dr. Adrian Archuleta's work at the Kent School, visit his bio webpage.