Donor Scholar Meet and Greet Darrell Payne esq and MSSW Student Joysha Luhman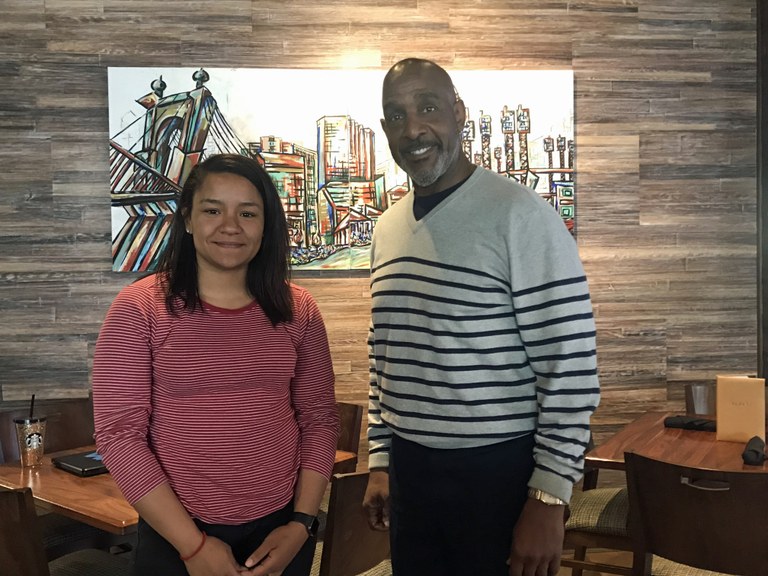 Alumni Scholarship Donor Darrell Payne, Esq. and Scholar Recipient MSSW student, Joysha Luhman
MSSW student, Joysha Luhman is the recipient of the Elaine C. Payne Scholarship, named after the mother of Kent Alumni Darrell Payne, Esq. This award goes to benefit an MSSW student for the use of tuition, books, or any other education expense directly related to the pursuit of their degree. Preference is given to single mothers who value education from historically underrepresented backgrounds. Joysha is the second recipient of this annual award and is anticipating graduation this May and hopes to pursue a career related to juvenile justice.
Joysha has greatly enjoyed her time and experience here at the Kent School, both in online courses and in the classroom. Particularly, her experience with faculty members and their dedication to students and how much she appreciates receiving the financial assistance of this scholarship in addition to the support of her family.
Darrell is an MSSW graduate, class of 1982. Now a practicing personal injury and criminal lawyer, Darrell owns his own private practice in Cincinnati, the Law Offices of Darrell Payne. He also looks back fondly on his experience in the program and attributes his sense of empathy and ability to relate to his clients to the education he received from the Kent School. He has eight siblings and admires his mother's work ethic for raising her children and her commitment to each of them and their education. Darrell's mother, Elaine, was one of the first black students at the University of Louisville, which is a point of pride for their family.
Darrell received a full scholarship as a student at the Kent School and is grateful to be in a place in his life to give back to the University of Louisville in support of education.