Dean David Jenkins Travels Abroad with Kent Students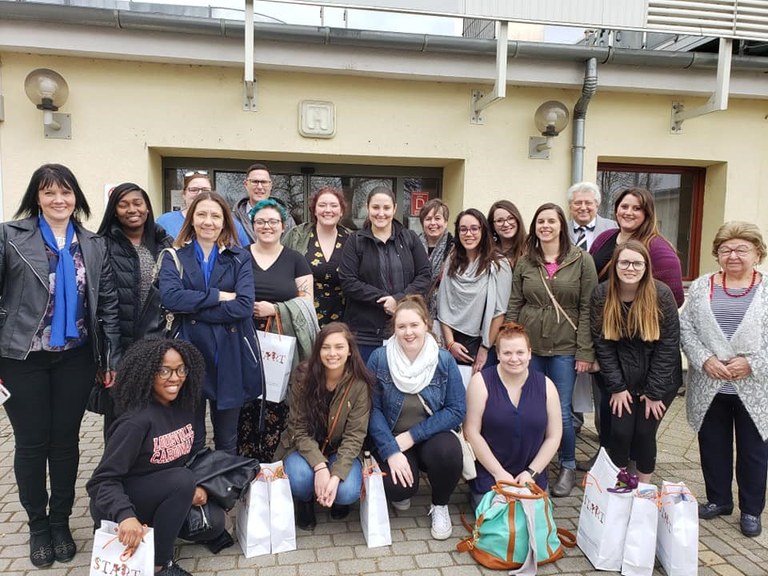 Kent faculty member, Dr. Tom Lawson, started taking students on international study exchange trips many years ago. This year I was honored to step into this role and accompany 15 Kent graduate students on a trip to Hungary and Germany in Dr. Lawson's place. The first part of our adventure took place in the city of Nyiregyhaza, in the northeastern part of Hungary, where we had the opportunity to experience, first hand, how another culture addresses social issues such as refugee services, homelessness, and school social work. As one example of the many places we visited, we spent much of one day learning how a local center offers a variety of services and employment opportunities for people with disabilities. At the end of this visit, several of their clients treated us to a dance and successfully encouraged some of our students onto the dance floor with them. We had the opportunity to interact, both formally and informally, with international students from the University of Debrecen and learn about some of their research accomplishments and experiences in abroad.
During our travel in that same part of the country, we visited the small town of Tallya in the nearby wine district. Here we learned about the importance of this product to the economy and toured a 500-year-old underground wine storage area on site (with, what had to be, one of the largest displays of "good" black mold I had ever seen growing all around their products). We later traveled westward to visit the much larger city of Budapest and experienced many of their beautiful and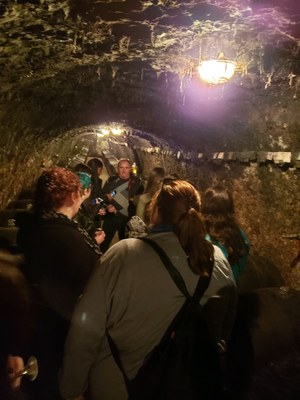 historical locations. One particularly powerful visit was to the Terror Museum where we learned about the methods used in World War 2 to control, manipulate, and imprison people. A few of the other sights we visited in Budapest included: The Invisible Exhibition (experiencing blindness), Matthias Church (built around 1015), The Dohany Street Synagogue (second largest in Europe), Parliament, "Shoes on the Danube Bank Memorial" (memorializes the death of Jews in Budapest), and Hero's Square. Budapest is a city you need to have on your bucket list as a place to visit in the future.  
We boarded a train in Budapest, rode through Austria, and made our way to Munich, Germany. The views of the Alps along the way were magnificent. If you have been there, you know Munich is a prosperous and energetic city with many things to experience. A trip into the famous Marientplatz Square will quickly show you the mix of historical and current life in this part of Germany. We were also able to travel to by train to Nurnberg, Germany and experience some of the rich history of this beautiful city. Easily one of the more powerful parts of the trip was our stop at the concentration camp in Dacau. It's hard to put into words the emotions of seeing and visiting this place. You can see pictures from the concentration camp and many of the other sights and places students and I visited on Kent's Facebook page.
I had an amazing and powerful experience on this trip. It was an incredible educational experience for me to join with our students to observe and learn how other cultures address social issues. I encourage our students to take full advantage of this type of experience and hope you have the opportunity to travel abroad in the future.