Building Research Capacity in Psychosocial Oncology in India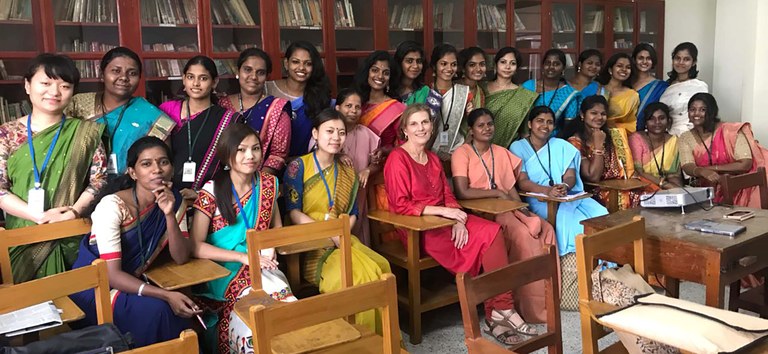 By Karen Kayser, PhD, MSW
The incidence of cancer in India is increasing at an alarming rate due to the aging population, social and lifestyle changes in the country. The increase in cancer is also accompanied by economic, societal, and human costs that can challenge a low-middle income country with limited resources. At the individual and family level, a diagnosis of cancer means uncertainty, suffering, and financial hardship, as it does for many in our own country.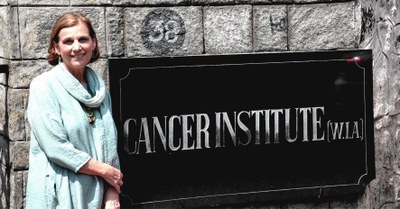 Professor Kayser, the Dr. Renato LaRocca Endowed Chair in Oncology Social Work, spent four months in 2018 in Chennai (Madras), India as a Fulbright-Nehru Distinguished Chair. She worked at the Cancer Institute (WIA)—one of the first and largest cancer centers in India.  Her goal was to learn more about how the social workers and psychologists at the Institute were delivering psychosocial cancer care to the large volume of patients and families seeking treatment. Her activities at the Institute focused on building the research capacity of the psychologists and social workers to develop and implement evidence-based interventions. Psycho-oncology is a new field in India and the clinicians often rely on practices developed in Westernized countries which are not necessarily applicable to the Indian culture.  For example, Indian families are much more involved with decision-making about treatment and are routinely included in sessions with the patient. Families are often informed of the cancer diagnosis before the patient. Through workshops, individual mentoring, and assisting with clinical research, she developed the research capacity of the clinicians and graduate student interns.
In addition to her work at the Institute, she taught a course on health inequities for graduate social work students at Stella Maris College and lectured on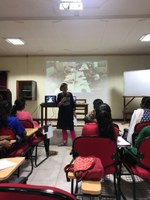 psychosocial cancer care across the country in major cities across India, including Mumbai, Kolkata, and Delhi.  Now back at UofL, she continues her work through regular video-conferencing with the clinicians at the Cancer Institute, using the ECHO™ model, an innovative way to disseminate knowledge and provide care to underserved regions with limited resources.
Dr. Karen Kayser is a Professor and the Dr. Renato LaRocca Endowed Chair in Oncology Social Work. Under Dr. Kayser's leadership, the Kent School of Social Work launched the first specialization in Psychosocial Oncology in the nation. You can learn more about Dr. Kayser's sabbatical in India on her blog: https://indiafulbright2018.com