BSW Program News
Student Spotlight: Heather Lind 
BSW Student, Heather Lind, from Whitesburg, KY is currently a Junior in upper-division social work courses. She is actively involved with her children's activities in marching band and soccer and loves cooking diverse culinary meals for family and friends. "Cooking is a big stress-reliever for me. My other hobbies include exercising any chance I get and just spending quality time with my family. My family is a big part of my life."
Heather decided to major in social work because she was interested in helping people and learning about diverse cultures. "My goal is to become a clinical therapist that works with families and children on behavioral health wellbeing. I know I'll be working with diverse populations with different values and cultures. Focusing on social work will enhance my understanding of the world around me to better assist clients of any background." Continue reading.
---
Social Work Living and Learning Community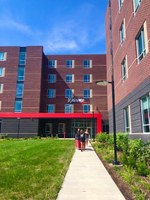 Ten undergraduate students moved into the new Belknap Residence Hall this Fall.  Some of the activities they participated in this semester included a vegan cooking class and a meet and greet with former Kent School Dean, Dr. Terry Singer.
The Social Work Living Learning Community (LLC) brings together BSW students who want to pursue a career in social work and/or those who want to join supportive community agents. The LLC focuses on academic engagement, mentor support, peer connections and student involvement. It offers opportunities to develop a wide range of social, professional and community experiences.  More information available here.     
The BSW Living Learning Community (LLC) students participated in a vegan cooking class
learning how to prepare healthy and affordable meals in the new Belknap Residence Hall. The class was taught by the UofL Health Promotions Office Mobile Cooking Unit.
Dean Emeritus, Dr. Terry Singer recently came to speak to the new first year Bachelor of Social Work, Living and Learning Community. He offered words of wisdom, discussed his experience in social work, the profession and offered to serve as a mentor.
---