2022 University of Louisville Alumni Fellow, Kent School of Social Work and Family Science
The 2022 University of Louisville Alumni Fellow, for the Kent School of Social Work and Family Science is Dr. Renee Campbell, '82.  Dr. Campbell received her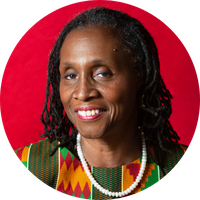 Master of Science in Social Work from the University of Louisville in 1982. She received her Bachelor of Arts in Social Work from Kentucky State University in 1978 and her Doctor of Education from Spalding University in 1999. She has a certificate in Women's Leadership from Cornell University, a certificate in Energy Medicine from Bellarmine University, and is a certified Reiki II practitioner.
Dr. Campbell previously worked as Clinical Assistant Professor and coordinator of the Online Field program, in the Master of Social Work program at the University of Kentucky. Other career highlights are her service of 22-years as President/CEO of Wesley House Community Services, former Executive Director of Heverin House, the first transitional housing program in Metro Louisville, and one of seven Nationally in the United States, and employability skills training at the Center for Women and Families.
In 2005, Dr. Campbell was appointed a Chief in the village of Tolon, Ghana, West Africa. In 2019, she created an educational scholarship program for children, kindergarten through the eighth grade, in the village of Tolon. Dr. Campbell is one of the founders of the Louisville Clothesline Project and developed programs for abused women in Ghana and Okinawa, Japan. She is a subject matter expert in intimate partner violence.
Dr. Campbell was recognized by the Kentucky Foundation for Women for her research about her grandmother, Ada Doss Campbell who died of documented professional neglect in 1940, at Lakeland Insane Asylum now Central State Hospital. Because of her work, the Mrs. Ada Doss Scholarship is established at the Community Foundation of Louisville and Kentucky State University.
Dr. Campbell resides in Louisville and has a mother who is age 92. She has three children and six grandchildren.