2018 CJ Graduation Awards, BSCJ Candidates and Graduation Photos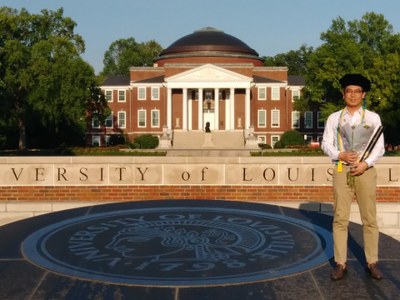 The faculty and staff would like to CONGRATULATE those who graduated from CJ with their BS, MS or PhD.  We wish them nothing but the best the future has to offer. Celebrate their accomplishments with these photos via our Flickr page!
Here is our list of undergraduate honors, awards and honor graduates:
Outstanding Undergraduate in Criminal Justice Award
Lacey B. Parham
Ida B. Wells Award for Success in The Face of Adversity in Criminal Justice
Jocelyn M. Delgado
John C. Klotter Award for Academic Excellence in Criminal Justice
Dulcinea M. Gurley
Sydney N. Geiger
Kenneth R. Nally Award for Outstanding Service in Criminal Justice
Xena M. Wilkerson
Second Lieutenant Commissions, United States Army
Ryan P. McGuire
Second Lieutenant Commissions, United States Air Force
Elliott E. Cabrera
Suzanne Marie Miller
Distinguished Military Graduate United States Air Force Officer Training Corps
Suzanne Marie Miller
May 2018 Bachelor of Science in Criminal Justice Candidates:
Jaire Zakar Alexander                           Kenneth Alan Arachikavitz
††Catherine Nicole Ballard                   Dawson Michael Bezehertny
††Austin Thomas Black                       William Rockaway Boger
James Harold Bratcher                        Kendall Alyssa Burwick
Elliott Emanuel Cabrera                       Troy Donnell Cary Jr.
††Elizabeth Ann Chaddic                     Cullen Anthony Clements
Paula Cortez                                       Kayla Johnetta Cross
Ricardo Paul Cruz                                Matheus De Marchi DaSilva
Joseph Lee Davies                                Naomi Joy Deeds
†Jocelyn Marie Delgado                        Zachary William Doninger
 Jaisson Sterling-Marsail Dyer               Kaiya Javelle English
Joseph David Evinger                            Matthew Charles Faith
Ryne Sean Farley                                Morgan Ashley Ferguson
Zachary Matthew Flowers                    †Madison Kendall Fraser
††Sydney Neal Geiger                         Charles Hunter Gibson
 Michelle Denise Goins                        †Paige Elizabeth Goins
 Jerome Lee Green                              ††Dulcinea May Gurley
 Caleb M. Haddock                              Alexander Jacob Hanlein
Asyia Da'Quan Harris                          †Blaine Preston Harris
Troy William Hart                                 David William Hayden
Joshua Boyd Hindman                         Melissa Ann Howard
London Constantine Iakopo                  Austin Patrick Ivey
Kieryn Nycole Jackson                       †Lauren Rae James
Bernadette Rose Jaminet                    Rebakah Dawn Keith
Stephen Blake Kelly                           Nathan Thomas Kling
††Kayla Jordan Kress                         †Gerald Ray Lanham Jr.
Maurice Reginald Lee Jr.                     Samuel Aldolphus Madison
Christopher Lee Matthews                  Jessica Renee McCauley
Brittany Renee McClure                      Ryan Patrick McGuire
†Kayla Danielle Meadows                   Lane Joseph Mehling
††Suzanne Marie Miller                      Joshua Andrew Myers
 Danielle Brooke Nunn                       Bryan Douglas Oberhausen
†Dalton Louis Oswald                       ††Lacey Brooke Parham
†Joseph Michael Pearson                 Natalie Cate Pferrman
 Owen Michael Quinn                       Natasha Nicole Ramirez
 Chaz Jamison Ray                          Pamela Kaye Roberson
Alexandra Raley Ross                      Kennedy Nicole Runge
Kylie Nicole Scheper                        Matheus Marchi Silva
Terence Dewayne Simien Jr.             Jeremy Todd Southerland
Samantha Gabrielle Stephenson       Anthony Le'Mario Taylor
 Mallory Faith Thompson                  Maria Rebecca Trevizo
 Alexis Marie Walker                       Benjamin Garrett Waller
 Callie Lee Whelan                          Xena Marie Wilkerson
John Richard Willey                        †Sydney Renae Williams
Zachary Ty Wilson                          Daniel William Witt
Stevonte Eugene Wood                 
†Candidate for Cum Laude    
††Candidate for Magna Cum Laude
†††Candidate for Summa Cum Laude