i2a Institute 2016
Sustaining and Deepening Critical Thinking Pedagogy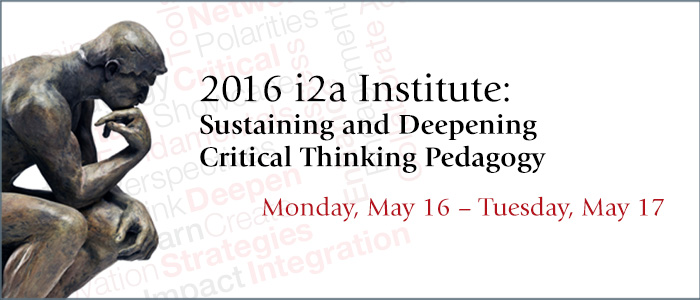 The i2a Institute, now in its eighth year, offers tried and true elements as well as new features that focus on the theory and practice of critical thinking pedagogy.
This year the conference will offer sessions that introduce the fundamentals of teaching for critical thinking while presenting new content to deepen and sustain existing practices. During the two days, you will enjoy featured sessions from national experts, connect with campus colleagues, learn about successful critical thinking practices from UofL and non-UofL faculty, gain insight into the i2a project and what's next for our campus, and listen as students share their experiences developing and using critical thinking skills.
Join us for one or both days of this engaging conference that brings together faculty and staff from across campus and the country to advance our shared mission to foster a culture of critical thinking in practice.
Day 1: Monday, May 16
View the 2016 Institute "Schedule at-a-Glance."
Critical thinking scholar and educator Dr. Enoch Hale from Virginia Commonwealth University will kick off the Institute with a featured session titled "Cultivating the Thinking Classroom." This workshop will introduce engaged lecture strategies and give you opportunities to think about how you can apply these ideas to your own teaching practices.
Dr. Hale will be followed by Dr. Brian Barnes, scholar at the Foundation for Critical Thinking and senior lecturer at UofL. Dr. Barnes will engage you in active reflection on your teaching through the lens of the critical thinking polarities, a series of benchmarks to differentiate didactic teaching from teaching for critical thinking.
The afternoon features an array of concurrent, hands-on workshops which will offer strategies for integrating fundamental concepts of the Paul-Elder framework into your work. You are invited to bring a syllabus, assignment, grading rubric, or other project to work on during the session.
Day 2: Tuesday, May 17
The second day of the i2a Institute will begin with a plenary session exploring lessons learned from our first QEP journey and how members of the campus community can use these lessons in their own work.
The rest of the day will offer up new content using conference formats that are back by popular demand, including Lightning Talks, a panel featuring UofL students, a poster session, and informal networking opportunities.
Who Should Attend?
Full and part-time faculty who are interested in infusing critical thinking innovations and related assessment strategies into their instruction
Administrators and staff in higher education who want to learn more about incorporating and assessing critical thinking in curricular, co-curricular, and student service projects and programs
Other educators interested in learning more about the teaching and learning of critical thinking
Registration and Other Information
Registering for one or both days of the Institute is FREE for UofL faculty and staff.
Beverages, light snacks, and a buffet lunch are included for participants as part of each day.
To enhance participant engagement, i2a encourages attendees to bring WiFi-enabled devices.
Registration cost for non-UofL affiliates is:
$125 for 1 day
$200 for 2 days
Group rate both days: $175 per person for groups of 4 or more attending both days and coming from the same school/university
To make group registrations, call 502.852.7703.