Summer Health Professions Education Program (SHPEP)
What is the Summer Health Professions Education Program? 
The Summer Health Professions Education Program (SHPEP) is a free summer enrichment hybrid program for first and second-year college students interested in exploring a career in the health professions. SHPEP's goal is to strengthen the academic proficiency and career development of students underrepresented in the health professions and prepare them for a successful application and matriculation to health professional schools.
SHPEP at the University of Louisville
The summer of 2023 will mark the 18th year of the SHPEP program at the University of Louisville. SHPEP at UofL introduces prospective medical, dental, nursing, and pharmacy scholars to the academic rigors of health professions education. Scholars will use team-based learning to integrate and apply the basic and social sciences centered on two major themes: Diabetes and Cardiovascular Disease. Scholars will also work in inter-professional collaborative teams to develop and implement treatment plans with dental/medical/nursing/pharmacy applications.
Hybrid Program Dates
SHPEP at UofL will convene on Monday, June 5 – Friday, July 14, 2023.
Virtual dates:Monday, June 5–Friday, June 16; In-person dates: June 19-July 14.
It is important to note, that scholars must be available to attend the full six weeks of the program. The majority of the program will take place during the day; however, there will be some evening and weekend program activities.
UofL SHPEP Program provides scholars with a variety of academic and professional experiences such as: 
Introduction to Biomedical Sciences. Scholars will attend classes in Organic Chemistry, Physiology, and Biochemistry.
Guided hands-on activities.
Academic and Career Advising
Exposure to health policy and equity
Shadowing opportunities
Simulation labs
Team-Based Learning modules and application
Access to the University of Louisville School of Dentistry, Nursing, Nursing, and Public Health, and Sullivan University College of Pharmacy.
Career Exploration workshops
Personal development workshops
Networking opportunities
And More!


Application
Applications to the SHPEP program open on November 1st and close on February 5th. Please use the following link to access the online application system: https://www.shpep.org/school/university-of-louisville/
Eligibility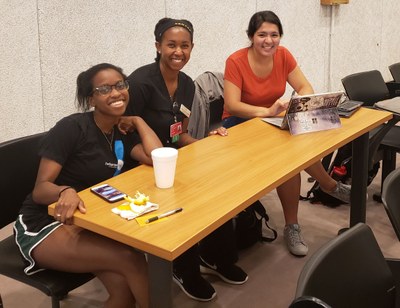 Must be a high school graduate and currently enrolled as a freshman or sophomore in college.
Have a minimum overall college GPA of 2.5.
Be a U.S. citizen, a permanent resident, or an individual granted deferred action for childhood arrivals (DACA) status by the U.S. Citizenship and Immigration Services.
Must not have previously participated in the program.
Other factors for consideration include:                           
Identifies with a group that is racially/ethnically underrepresented in the health professions;
Comes from an economically or educationally disadvantaged background; and/or
Has demonstrated an interest in issues affecting underserved populations.
Submits a compelling personal statement and a strong letter of recommendation.
Program Contacts:
UofL SHPEP 2023 Information Sessions
Register here for a virtual information session on SHPEP at the University of Louisville for the Summer of 2023: https://outlook.office365.com/owa/calendar/UniversityofLouisvillleSHPEP2023@cardmail.louisville.edu/bookings/
These 60-minute information sessions will cover in-depth information for SHPEP 2023 at the University of Louisville, and includes information for scholars' Q&A. Any questions can be directed to shpep@louisville.edu or katrina.elliott@louisville.edu. 
SHPEP Student Development Assistant (SDA) Position
Student Development Assistant Information – Summer of 2023
The 2023 Summer Health Professions Education Program (SHPEP) will be a six-week hybrid program that supports 80 pre-health scholars interested in dentistry, nursing, pharmacy, and medicine. The primary goal of SHPEP is to strengthen the academic proficiency and career development of students underrepresented in the health professions and prepare them for a successful application and matriculation to health professions schools. The Student Development Assistants (SDAs) will play a vital role in helping to obtain the aforementioned goals, and the overall success and support of the program and participants.
Student Development Assistants must be willing to serve as a role model, mentor, and advisor to student participants. The SDA role/team serves as an imperative piece of the successful implementation of SHPEP programming and scholar experience. 
Below you will find the application link and the detailed list of duties. The SDA Application will close on Friday, March 17th, 2023.
 Application Link:
Please see below for a detailed list of duties for SDAs. 
 Supervision and Communication
Serve as the first point of contact for participants. This means: helping manage scholar GroupMe, helping disseminate information, assisting with getting scholars connected to the correct resources, etc.
Track scholar attendance during all sessions, and track attendance for buses.
Reach out to scholars if they are late or absent from a session and/or designated meeting time.
Assist scholars with course content, technical challenges, and responding to scholar requests.
Serve as chaperones on weekend activities, service events, ride on buses etc.
Enforce program rules/regulations/restrictions
Mentorship
Support and foster relationships between scholars within the cohort and the SDA team.
Help supervise, tutor, and mentor a group of ten scholars through the cluster system.
Be willing to talk about your journey to your health professional school.
Attend all programmatic components.
Serve as tutors. Participants will have time set aside to study as a group; your job is to make sure that they understand the information.  (This is why it is critical for you to attend class.)
 Programming
Plan social activities for participants, and lead at least one small group activity per week.
Have icebreakers or activities ready when presenters cancel or running late
Suggest and assist with optional programming initiatives (i.e. mock interviews, volunteer opportunities, study session etc).
 Administrative Duties
Assist with scholar registration, check in and out
Monitor participants to check for health issues; transport to emergency/urgent care centers if needed.
Serve in an on call rotation
Report scholar misconduct.
Communicate with the SHPEP Leadership team when/if issues arise.
Assist with orientation activities, and course content
Help support scholars in their engagement in the program.
Any other duties the SHPEP Leadership team deems would be beneficial to add to help with the impact and integrity of the program.
Other Duties as Assigned
Required Experience to Apply
Has received or will receive a baccalaureate degree prior to June 1, 2023.
Must be entering or attending a health professional school (i.e. dentistry, medicine, nursing, and pharmacy) and/or taking a gap with the intention of attending health professional school.
Able to support the program for the full 6 weeks
Enthusiast about mentoring and supporting scholars and the SHPEP Program
Preferred Experience (application will still be considered if you do not have these requirements)
Entering or finishing the first year of health professional school
Participant of a summer pipeline program (i.e. SHPEP/SMDEP, MCAT-DAT, PEPP, Gear Up, etc.)
Identify as underrepresented in the health professional field (i.e race/ethnicity, economic/educationally disadvantaged background, and/or an interest in issues affecting underserved populations.