Choose your Plate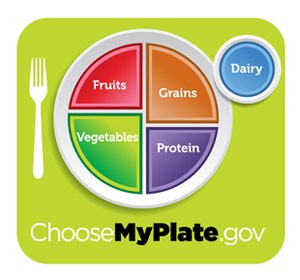 The Choosemyplate.govwebsite offers many resources to build a balanced lifestyle of healthy nutrition and physical activity.
Assess your diet

Get a personal eating plan

Understand the components and daily recommendations
Use the resources at choosemyplate.gov to assist in meal planning and to ensure you're eating a well-balanced diet.
The U.S. Department of Health and Human Services (HSS) and the Department of Agriculture (USDA) developed The Dietary Guidelines for Americans to promote authoritative advice for people two years and older about how good dietary habits can promote health and reduce risk for major chronic diseases.  They serve as the basis for Federal food and nutrition education programs.
The Dietary Guidelines describe a healthy diet as one that:
Emphasizes fruits, vegetables, whole grains, and fat-free or low-fat milk and mild products;
Includes lean meats, poultry, fish, beans, eggs, and nuts; and
Is low in saturated fats, trans fats, cholesterol, salt (sodium), and added sugars.
The recommendation in the Dietary Guidelines are for the general public over 2 years of age.  Individuals with a chronic health condition should consult with a health care provider to determine what dietary pattern is appropriate for them.