Co-Immunity Water Study
Co-Immunity Water Study
Water Monitoring
The Water Study portion of the Co-Immunity Project uses wastewater-based epidemiology to monitor the presence of SARS-CoV-2 in Louisville's sewer system. When people are infected with the SARS-CoV-2 virus they shed the virus through stool even if they are asymptomatic. Stool then enters the sewer system, resulting in the presence of the virus in wastewater.
This phase of the Co-Immunity project is conducted in collaboration MSD, Sanitation District 1 in Northern Kentucky, Kentucky Waterways Alliance, and the Center for Predictive Medicine. This work is based on Arizona State University's prior research in developing water testing methods for indicators of cardiovascular disease for our Green Heart Project.
Wastewater Study
Read about our wastewater research in the New York Times.
In partnership with Louisville's Metropolitan Sewer District (MSD), Envirome researchers are using automated, 24-hour composite samplers to collect wastewater from 16 sites across Louisville. In the lab, researchers look for evidence of SARS-CoV-2 RNA in the collected samples. We will compare this analysis with community and healthcare worker testing results to gain a better understanding of infection hotspots and spread.
Co-Immunity is monitoring wastewater for the presence of the SARS-CoV-2 virus to validate the individual testing conducted in the Healthcare Worker Study and the Community Study, to increase the reliability of our findings, and increase the resolution of findings at a lower cost than repeating individual testing. By comparing multiple datasets we can cross-validate each approach and have more confidence in our findings. This process could even form the basis of a new cost-effective method for monitoring infection that can inform policy decisions and other community-wide interventions.
Testing wastewater allows Co-Immunity to increase the resolution of our findings. While we can only test people for COVID-19 infection every 8 weeks, we are sampling wastewater from 15 locations twice per week. In these samples, we look for changes in the amount of genetic material (RNA) from the SARS-CoV-2 virus. This analysis allows us to identify geographic and demographic factors that could contribute to outbreaks. Comparing wastewater and testing results will also allow us to refine our models to consider local, seasonal, and sporadic variables that affect infection rates.
Surface Water Study

Kentucky Waterways Alliance and UofL's School of Urban and Public Affairs are leading Co-Immunity's Surface Water Study. The team includes University of Louisville's Sustainability Director Dr. Tamara Sluss and KWA intern, Cullen Hunter, are testing for the presence of SARS-CoV-2 in surface water.

KWA is monitoring areas of interest along Beargrass Creek because of their proximity to combined sewer overflows (CSOs) and areas of recreation. During heavy rains a CSO may occur as a result of water from storm drains (stormwater) and wastewater from the sewer system combining and spilling into local waterways such as Beargrass Creek. KWA hopes to learn more about how much, and if any SARS-CoV-2 is found in surface water near these CSOs. We are gathering information about the wastewater sewersheds overflowing into Beargrass Creek to better understand the risks associated with this novel virus and our waterways. As the project and sampling moves forward, KWA hopes to expand to more sites across the city.
 
While the risks that SARS-CoV-2 may cause for recreational activities associated with the waterways is still uncertain, sewer overflows still present other safety concerns such as fecal coliform bacteria, E. coli, and others. MSD monitors these overflows and issues advisories when the waterways are not safe for recreation.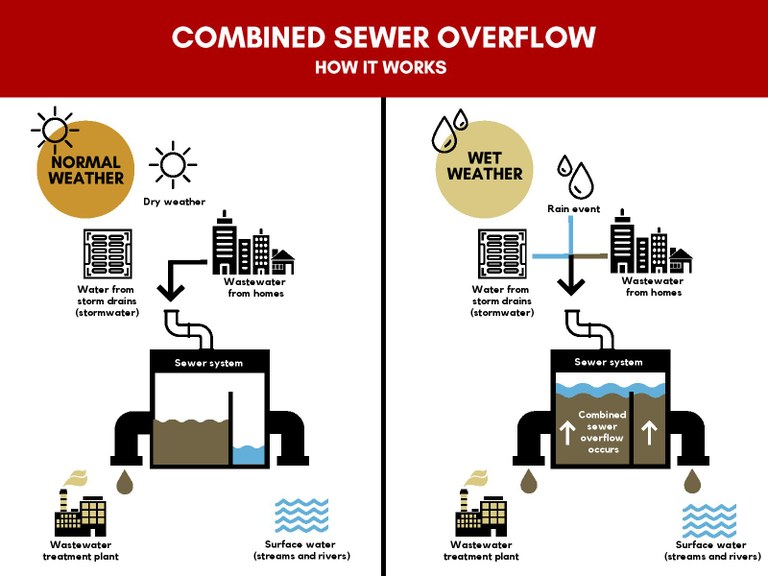 Visit Kentucky Waterways Alliance's Co-Immunity webpage to learn more about the Surface Water Study.
What is wastewater based epidemiology?
Wastewater-based epidemiology (WBE) is  a new field that identifies markers of human disease in sanitary sewer water. By analyzing which microbes and chemicals are present and how much is there, it is a promising approach to learning more about the health of the people that live nearby.
Wastewater and Surface Water Facts
Read facts about Co-Immunity's Water Study here.
---
Wastewater Sample Collection
The Co-Immunity wastewater study is looking for SARS-CoV-2 in Louisville's sewers.

 

We are testing water from 16 sites across Louisville. Sites include large treatment plants, pumping stations, and manholes within our community.

This is a composite sampler collecting a sample from a manhole in the street. The composite sampler is a battery-powered pump that collects a sample for 24-hours with a small tube that reaches into the sewer.

 

The research team visits each site twice a week to collect samples and take them back to the lab at UofL.

The research team pumps samples of the sewer water into labeled containers for lab analysis back at the University of Louisville.

 

The lab will look for genetic evidence (RNA) of the SARS-CoV-2 in these samples.

 

The amount of RNA present in the wastewater will be linked to the the area serviced by that sewer area and allow comparison of different areas of Louisville.

By looking at samples over time, we hope to learn how SARS-CoV-2 moves in Louisville and develop strategies to predict and manage future outbreaks.
---
Meet the Wastewater Team

Dr. Rochelle Holm
Rochelle Holm (PhD, PMP) received her doctoral degree in Environmental Science from Washington State University in the United States. She works primarily on issues of waste, sanitation systems, hygiene and rural water supply.  Her nearly 20 years of experience has focused on bridging the gap across boundaries of research and innovative practice by working together globally with communities, officials, academics and analysts.
Ryan Lloyd

Ryan Lloyd is a first-year graduate student at University of Louisville. He is assisting with the collection of wastewater samples across the Louisville to ascertain where potential outbreaks of SARS-CoV-2 may be occurring. This is Ryan's first experience conducting wastewater sampling, and he has learned a great deal about proper field procedures and precautions. Ryan also performs lab tasks such as processing and organizing samples, preparing/sanitizing materials for field work, and shipping/dropping samples off to be tested. Ryan's motivation for pursuing a master's degree in sustainability is driven by my desire to work in the field of renewable and community energy. Ryan's background is in ecology and traditional biological conservation. He became much more passionate about community-based conservation and sustainability efforts after receiving my bachelor's degree in 2015. Over the last five years, he has developed a keen sense of the scope of knowledge necessary to achieve true sustainability.
Emmanuel Fields
Emmanuel Fields holds a Bachelor of Arts in Anthropology and is currently studying for a Master of Science in interdisciplinary studies with a concentration in sustainability within the University of Louisville Department of Urban & Public Affairs. He has research interest in water resource quality, urban sustainability, and social ecological systems, and environmental justice.
Emmanuel has a diverse professional background that has helped to shape his research goals and interest with regards to stewardship of urban and natural areas. He has been part of research teams from the Kentucky Department of Fish and Wildlife Resources. He has also done research and field work while part of the United States Geological Survey while working for the Department of the Interior. Currently, Emmanuel is part of a small nonprofit organization focusing research efforts into proper and inclusive stewardship efforts, that includes protection of farmland and research into conservation science.
---
Learn More
Published Research
Wastewater sample site selection to estimate geographically-resolved community prevalence of COVID-19: A research protocol
Background: Wastewater monitoring for virus infections within communities can complement conventional clinical surveillance. Currently, most SARS-CoV-2 testing is performed during clinical encounters with symptomatic individuals, and therefore likely under-represents actual population prevalence. Randomized testing on a regular basis to estimate population-level infection rates is prohibitively costly and is hampered by a range of barriers associated with participation in clinical research. In comparison, community-level fecal monitoring can be performed through wastewater surveillance and can effectively surveil communities with less temporal lag than other surveillance methods. However, epidemiologically-defined protocols for wastewater sample site selection are lacking.
Methods: Herein we describe methods for developing a geographically-resolved population-level wastewater sampling approach in Jefferson County, Kentucky which may have general applicability for cities throughout the United States. This approach was developed by the selection of sampling locations along sewer lines transporting raw wastewater from geographically and demographically distinct areas that correspond with locations where random testing of residents occurs. Conclusions: Development of this protocol for population-level sampling for SARS-CoV-2 prevalence in wastewater can be utilized to inform consistent wastewater monitoring among cities for up-to-date and geographically-resolved information on COVID-19 prevalence within communities. This information could substantially supplement public health surveillance of COVID-19 and thus serve to better guide targeted mitigation strategies throughout the United States.
Co-Immunity's Wastewater in the News
More COVID-19 WBE Resources
---
Contact
For more information please email envirome@louisville.edu