Tier I
PBIS Tier 1
The PBIS Self-Assessment document is to be used by district/school-level administrators or MTSS Implementation Teams. This document allows for a temperature check on current MTSS / PBIS structures. Based on the results of the Self-Assessment, a district/school will be able to identify strengths and areas of growth within their framework. Teams may use this tool prior to a walkthrough or at any time during the school year to check evidence of school wide Tier 1 PBIS implementation as well as plan next steps for implementation. The areas of growth determine actions items to create a more effective MTSS/PBIS structure.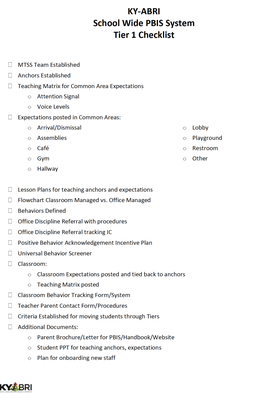 The PBIS Tier 1 Checklist is a simple checkbox guide for teams to use to ensure they have the essential components of an effective PBIS Tier 1 system.  This checklist can also serve as a visual to organize next steps and assist teams in evaluating their progress, determining next steps, and revisiting elements of their PBIS systems.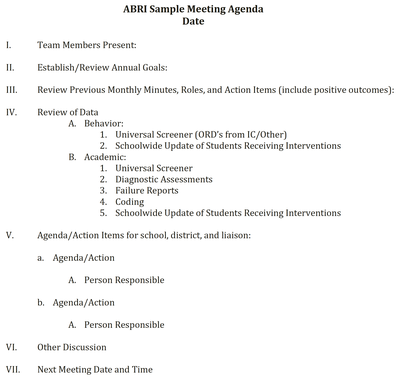 A Meeting Agenda is created by the MTSS team lead and used by the recorder to keep meeting notes organized (and can be used in conjunction with the ABRI Annual Plan of Action). The team roles should be defined and assigned during the first meeting of the year so all members understand their responsibilities for upcoming meetings. The agenda is often sent out prior to the meeting so the team members know what to expect and have time to prepare.  In addition, the agenda keeps the meeting within a predetermined schedule and prevents a drift in conversation.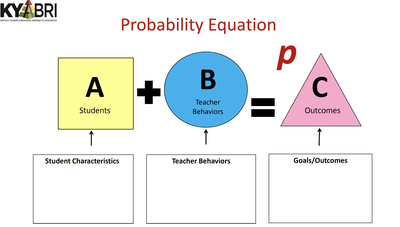 The Probability Worksheet template is designed as a staff activity to engage faculty and team members in thoughtful conversations about their students' characteristics, teaching behaviors and the desired goals and outcomes.  Student Characteristics are the skills, abilities, family/culture, functional desires, academic, and school history. Teaching behaviors are factors that a teacher/school can control and include item such as: curriculum, teaching strategies (modeling, explicit instruction, etc), student engagement, expectations, environment (routines, consistency, physical arrangement, etc), time, feedback. The desired outcome and goals are observable measurable skills that predict favorable student outcomes (academic and social behaviors). 
The Annual Plan of Action document is to be utilized by the district/school level MTSS Teams. This document allows for record keeping from the team meetings.  Space is provided for recording team members and roles, annual MTSS goals, meeting dates, monthly agendas, minutes/notes and action items to be completed. Listed under each month is a reminder to collect, graph, analyze and share academic and behavioral data.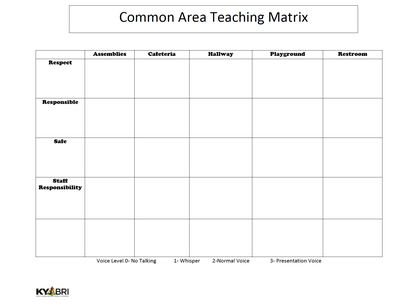 Once the team selects 3-5 positively stated anchors or expectations that support the school's mission/purpose the Teaching Matrix is used to organize and list all school settings or contexts in which the expectations are expected. For each anchor or expectation, provide at least two positively stated, observable behavioral examples for each setting (e.g., Walk with hands and feet to self, return lunch tray to kitchen).  
Positive acknowledgment is associated with positive relationships and increased student achievement.  In an effective PBIS system, students need to be acknowledged for "doing the right thing" or following the school's Anchors and Expectations. Feedback is a teacher behavior; acknowledgment systems include several Levels of Acknowledgment: 1) verbal praise which is specific and frequent, 2) access to privilege (i.e., something that is curricular-based), 3) public acknowledgment such as certificates, pictures and announcements and 4) a token reinforcement system delivered by adults with verbal praise and or a lottery system. Schools can use this document to record the various levels of acknowledgments which are used to acknowledge appropriate behavior.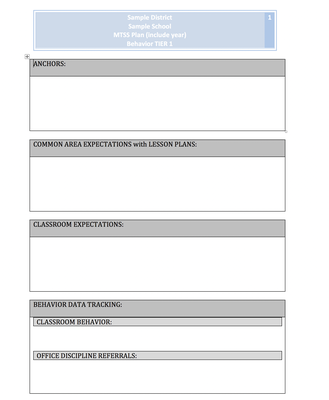 During PLCs /team meetings, staff members work through the levels of the Tiered Triangle Template. This template allows a school to build a current MTSS plan for a given subject by listing  Tier 1, 2 and 3 components, fidelity criteria, and supports available. After this activity, all Tiered Triangle templates will be analyzed for parallel and vertical multi-tiered system of support consistency. The results of this staff activity should be discussed with all staff by the MTSS team. Once staff agrees on the various components for each tier, a final version is created and shared with staff.