"Dentistry is My Ministry" – Honoring Dr. Sherry Babbage Melisizwe, 2021 School of Dentistry Alumni Fellow
In honor of her selection as the 2021 School of Dentistry Alumni Fellow, we interviewed Sherry Babbage Melisizwe, DMD '81, about her path to dentistry, her passion for mentorship, and her selection as Alumni Fellow.
Note: Responses were edited for length and clarity.
How did you choose the field of dentistry?
Dentistry was never on my radar. I was a Med Tech at the Jewish Hospital and the Children and Youth Clinic. I knew the dentist there from undergrad, so I was hanging out in the clinic, asking questions about different things. She noticed how much I liked being there and watching her do procedures. Out of the clear blue, she asked, "why don't you apply to dental school?" So I applied. I was the only African American that applied, so I guess they might not have had a choice, but they took me ... and the rest is history.
After receiving your degree, why did you choose to go into private practice in West Louisville?
I wanted to be where I felt like I would make a difference and be able to do some good, and that opportunity presented itself. I had my office in the neighborhood I practically grew up in – maybe a couple of miles at the most from my childhood home.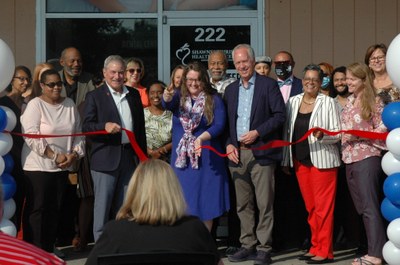 I changed buildings a couple of times, but all in the same block, doing dentistry in West Louisville for almost 40 years. I think I technically retired after 38 years. And then I got a chance to go back into the community by working as a full-time professor for the School of Dentistry. I was back in the West End with a clinical rotation our students do at Shawnee Christian Healthcare Center – and I was at home. It was really, really good to be able to continue to provide service to the community I love.
Photo: Dr. Babbage (front row, second from right) helps cut the ribbon at the grand reopening of the Shawnee Christian Healthcare Center dental clinic on October 9, 2021. 
How did you get involved in diversity and inclusion efforts at the School of Dentistry?
I tell people all the time I'm looking for my replacement -- I need somebody that's going to go and have a heart for the West End, and it's probably going to be a person of color.
There was a need to have diversity in this building. Because I love the school and because I love dentistry and because I talk too much, I was recruited to make sure that door for diversity stayed open – that it was not only open, but built up – and to encourage students of color that they could apply to dental school and that they would be welcomed here. I think that it worked. We have really increased from where we were, at least in the past 20 years. We've increased diversity enrollment and graduation rates. That's really important to me. And it starts with mentorship.
Why does mentorship mean so much to you – especially for African Americans and young people who are first-generation college students, as you were?
I want them to be able to see that they can do more if they want to. So I put myself up there as an example, the face of that first-generation college student. But I don't want to just be the face. I want to be the mentor, too. I'm not going to give your heart a dream and then not at least do something.
What are some of the mentoring activities you are involved in?
One avenue is with the health and medical cluster for the YMCA Black Achievers program. These kids are 9th-12th grade. Two of the kids want to be dentists, so I was like, "I'm your new best friend!" They might hate me by the time this is over, but I am not going to let them slip through the cracks!
I also get to do one of our biggest recruitment activities, the Summer Health Professions Education Program (SHPEP). We get 80 kids from all over the United States. About 20 of them are usually on the dental magnet. We talk to them about what they need to do, and we write it down. It's called Chart Your Course. I love that we do that.
Then we've got the predental club on main campus. I help mentor that group as well. I also teach a class called Preview to Dentistry. And those things fell in my lap. You know, once you get here, they make sure you have something to do! And now that I'm full time, I get to be in clinic – which I love, love, love.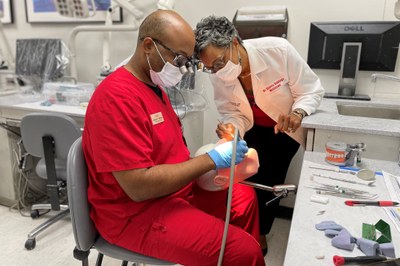 When you're mentoring students, what is the biggest challenge that you're helping them to overcome?
Confidence. I try to teach them not to look at that person next to you because you just bring your A game when you come in. And your A game might be different a little bit. Your talents might be a little different than somebody else's. That's okay. Just look at what your talents are, what your strengths are. And know your weaknesses so you can work on them.
Photo: Dr. Babbage consults with DMD student William Walker in the lab. 
Where did this passion, this commitment to helping, come from?
I tell people all the time I learned a lot of stuff at the knee of my mother and grandmother that I didn't know I was going to need. I'm talking about two ladies that were maids. But they always went to work with a smile. They were always feeding somebody else's kid, cleaning somebody else's house, but they never stopped showing unconditional love to their own family. So I learned the sense of community and giving from them, not from educated folks. Now I've learned a lot from educated folks, as well. But those basic things, those heart things, I feel like I got from those two women.
How does it feel to now see some of those students you mentored come back to ULSD as faculty?
I love that I get to continue the relationship in person. Dr. Madeline Hicks did that for me. She was the first African American female to be here, and she reached back her hand to guide me and help me. She was gone when I got here, but she didn't stop being a presence.
I think that, as a people, African American people value history and they value those that have opened doors for them. And hopefully I will never, ever fail to give the people that came before me the adoration and respect that they deserve. It's such comfort to have had that. And it's a comfort to have been mentored by them so that I could mentor somebody else.

The University has made diversity one of its Cardinal Principles and has also set a goal to become a premier anti-racist institution. Why do you think that's important?
If diversity is not one of your focuses, it will get swept under the rug. No matter what the talent is you have on your campus, it needs to be a priority from the top. You have to put money behind it, put time behind it, put personnel behind it. I think that as a university and as a dental school, we've done all those things.
"We do that next level thing, that thing that makes you feel like you are a part of something special. So when they ask, 'What's the difference in the school?' or 'Why should I attend this school?' the answer is easy: Because we care." 
You have been part of this school community for more than 40 years now. What is it that you think makes the University of Louisville School of Dentistry so special?
Students that want to come here ask that all the time. It's hard to describe. But once they're in the building, they feel it. They feel the family. They feel the caring. Every dental school is accredited. Wherever you go, it has to be an accredited institution. But I think we do that next level thing, that thing that makes you feel like you are a part of something special. The faculty do that. The students within the group do that. The upperclassmen do that. The staff, everybody. That's what we do. We love making our students feel like they're part of something special. So when they ask, "What's the difference in the school?" or "Why should I attend this school?" the answer is easy: Because we care.
Looking back at that day when you applied to dental school, could you have ever imagined where dentistry would take you?
Dentistry has been a blessing to me. It has allowed me to grow as a person. It has allowed me the space to give back. It's allowed me a space to touch young people. My husband coined the phrase, "dentistry is my ministry," and that's so true.
When you found out that you had been selected as this year's School of Dentistry Alumni Fellow, how did you feel?
Well, I haven't done cartwheels and flips in a very long time, but I really felt like I could.
I feel like it's the top of the mountain. Being recognized by your peers and by your dean and by the folks on main campus, it just makes you want to work harder. It means there's more work to be done. You know, when you're Miss America, they want you to have an agenda, a platform. I'm looking at this the same way, and my platform is minority scholarships. It's giving me another avenue to ask for money or tell people where to go and what to do! And I will hopefully be able to continue to make the university proud of the things that I can do and will continue to do.
---
Celebrate Dr. Babbage by Supporting the Minority Alumni Scholarship for Dentistry Fund
Donors who wish to celebrate Dr. Sherry Babbage's achievements are encouraged to make a gift to the Minority Alumni Scholarship for Dentistry.*
---
*The University of Louisville does not discriminate on the basis of race, sex, age, color, national origin, ethnicity, creed, religion, genetic information, sexual orientation, gender, gender identity or expression, marital status, pregnancy, or disability of an otherwise qualified individual in educational programs and activities. Accordingly, while a program or activity may be focused on the needs or issues of a particular group, they are intended to be inclusive of all and any participant may benefit from attendance or participation in these programs and activities.