Division of Prosthodontics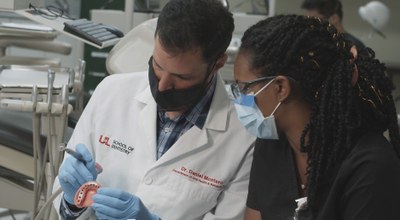 The University of Louisville School of Dentistry Division of Prosthodontics prepares undergraduate and graduate students for the competent clinical practice of restorative dental care, using the latest technologies in digital dentistry, radiographic imaging, diagnostic methods, advanced surgical and restorative techniques, and dental laboratory support. 
Our faculty and residents work closely with colleagues throughout the School of Dentistry optimal comprehensive treatment is provided for patients with challenging dental conditions and problems.
The Division of Prosthodontics is part of the Department of Rehabilitative & Reconstructive Dentistry. 
Become a Patient
Call 502-582-5096 to schedule an initial consultation at the School of Dentistry.
Learn more about prosthodontic care at ULSD
Division Information
Division News
Donatelli Selected to Lead Postgraduate Prosthodontics Residency

In June 2022, Dr. David Donatelli assumed the program director role for ULSD's prosthodontics postgraduate program. Dr. Donatelli previously served on the faculty at his alma mater, Temple University. He has been in private practice throughout his career and has served in several leadership roles with the American College of Prosthodontists. More About Dr. Donatelli

Mukherjee Wins First Place in Poster Presentation

Third-year prosthodontics resident Dr. Esha Mukherjee won first place in the post-doc student poster presentation competition at the 2021 meeting of the Kentucky section of the American Association for Dental, Oral, and Craniofacial Research (AADOCR). Dr. Mukherjee presented research on quality control of in-office 3D printers.




Dawson Receives ACP Private Practice Prosthodontist Award

J. Hunter Dawson, DMD '14, MS '17, received the 2021 American College of Prosthodontists Private Practice Prosthodontics award for region 2. His clinical practice is in Charlotte, North Carolina at the Carolina Center for Dental Implants.

Grant Elected Vice President of the American College of Prosthodontists

Gerald T. Grant, DMD '85, MS, FACP, was sworn in as Vice President during the 50th anniversary Annual Session of the American College of Prosthodontists (ACP). Dr. Grant currently serves as a professor and the Interim Assistant Dean for Technology and Innovation at ULSD. He is also Associate Director of UofL Additive Manufacturing Institute of Science & Technology (AMIST). 

Digital advances mean big wins for customized patient care

Combining the expertise of engineers, prosthodontists and radiologists is "a recipe for innovation in the area of medical modeling and design." Read more
Division Links and Resources