Community Outreach
The Department of Orthodontics, Pediatric & Geriatric Dentistry prides itself in giving to the  community through specific service projects.
Smile Kentucky!

This community partnership is designed to address what the U.S. Surgeon General calls "most common unmet health need," dental decay.
Each February, local dentists and hygienists give hundreds of children free dental treatment through Smile Kentucky! The University of Louisville School of Dentistry donates the use of its school and staff. It's part of a national treatment day coordinated by the American Dental Association.
In addition to the free treatment, all students at the participating schools received dental education in their classroom, toothbrushes, toothpaste and water bottles.
Learn more about the Smile Kentucky! program...
Smiles Change Lives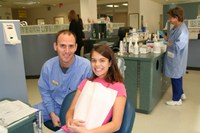 The local chapter of Smiles Changes Lives began under the leadership of Drs. Amy Farnsworth and Carol Summe - two UofL School of Dentistry alums.
The youth selected for the program must agree to program guidelines.
During the screening, orthodontic residents at UofL assess each child's clinical need for orthodontic treatment as well as assess their oral hygiene.
Information collected during the screening is paired with each child's application materials and given to the local Community Advisory Board for review. This board decides which applicants will be assigned to a local orthodontist for treatment.