Master of Science in Oral Biology: Overview
The Master of Science in Oral Biology (MSOB) in the School of Dentistry offers training particularly important to persons wishing to expand their knowledge and understanding of the basic sciences related to Oral Biology. The program is available to those students wishing to obtain solely the Masters degree; or students currently enrolled in the D.M.D. degree program; as well as to persons who have previously earned a D.M.D., M.D., or equivalent degree.
This research-based program is directed toward a general understanding of the biology of the oral cavity and developing craniofacial region and the interactions between oral and systemic health. Basic (molecular and cellular), clinical and translational dental and medical research is pursued. Therefore, the student body in Oral Biology is diverse and includes post-graduate dentists, dental students and science graduates.
See examples of research projects of students in the ULSD Oral Biology Graduate Program on YouTube: Jeff Marschall or John Houston in Dr. Potempa's laboratory. Student research may be in the areas of biochemistry, microbiology, oral immunology, genetics, or other areas related to dentistry.
The MSOB is designed as a 2 year program. The primary focus is on the student's research project.  During the first 2 semesters students take all the required didactic courses and begin their research.  The student performs biomedical research with the training and guidance of a faculty mentor, and results are prepared as the student's thesis.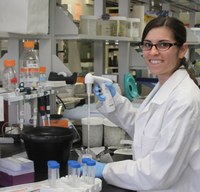 While the program can be tailored to the requirements of each individual student, curriculum design and course selection must be approved by the student's research committee. Other course work may be required as individualized programs are developed by students working with their thesis advisor and graduate committees. The graduate committee also approves proposed thesis research, reviews the thesis research, reviews the thesis for acceptance, and administers a final oral examination.