Outstanding Community Engagement Awards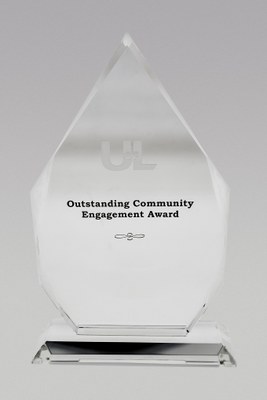 2016 Community Engagement award winners

2015 Community Engagement award winners
2014 Community Engagement award winners
2013 Community Engagement award winners
2012 Community Engagement award winners
2011 Community Engagement award winners
2010 Community Engagement award winners
2009 Community Engagement award winners
Introduction
The Outstanding Community Engagement Award was created in 2009 by Provost Shirley Willihnganz as a way to recognize faculty, staff, students and community partners who are involved in outstanding community engagement service.  **Due to budget constraints, the monetary portion of the award has been suspended.  Honorees engaged in exemplary community engagement activities such as volunteerism, community based learning, outreach, partnerships, curricular engagement or community based research will receive a crystal award, and their name will be added to the permanent recognition display located in Ekstrom Library.
Recipients will be selected based on their work to improve community, particularly in the areas of, but not necessarily, Education, Health, Economic Development, Social Services, Arts and Culture, or Sustainability.  The award is intended to recognize outstanding local, regional, rural, or international engagement.
All nominees will be invited to attend the Community Engagement Ceremony & Reception in Fall 2017 where award recipients will be announced. 
Previous award recipients are not eligible to apply for this award cycle, however previous nominations are strongly encouraged to resubmit.
Self-nominations are not accepted.

Staff in the Office of Community Engagement are not eligible to receive the award.
Community Partners must be nominated by a university student, faculty, staff or alumnus. 

In the event there is no community partner nominated, the Office of Community Engagement in consultation with the award review committee, reserves the right to identify a deserving community partner to recognize.
There is no requirement for the award to be given in every category each year. 

Eligibility
Faculty
Faculty member must have a minimum 5 years continuous employment at UofL
Award may be given to individual or group of faculty (e.g. department or academic unit)
Full-time and part-time faculty are eligible
Staff
Staff member must have a minimum 5 years continuous employment at UofL
Award may be given to individual or group of staff (e.g. office or administrative unit)
Full-time and part-time staff members are eligible
Student
Community engagement activity or service must have taken place while student(s) at UofL
Award may be given to individual or group of students (e.g. RSO, class)
Full-time and part-time students are eligible
Community Partner Award
Award will be given to community service agency for outstanding community work in partnership with UofL
Organization must be a 501c(3) agency in good standing
Nomination Forms
PLEASE NOTE: Effective for the 2015-16 award cycle, the nomination forms are now electronic. Please submit your nomination on the form provided.
Staff(Word document)
Student(Word document)
Community Partner(Word document)
For questions regarding criteria or the nomination process, please email Susan Jenkins.
Evaluation Forms
Evaluation Instrument Faculty (Word document)
Evaluation Instrument Staff(Word document)
Evaluation Instrument Student (Word document)
Evaluation Instrument Community Partner (Word document)
Timeline
Call for nominations - March 23, 2017

Submission deadline - May 18, 2017

Community Engagement Ceremony & Reception - Fall 2017

Document Actions