Events
Suicide Prevention Week at UofL
Monday, September 11, 2023
Mission 22 Pledge Drive
10am-1pm, Student Recreation Center
Show your support tfor suicide awareness and prevention by signing a bannerr and completing 22 pushups to earn a free t-shirt. Provided in partnership with Center for Military-Connected Students, Center for Family & Community Well-Being, Louisville Campus Recreation, and Cards SPEAK.
QPR Suicide Prevention Gatekeeper Training
12-1pm, Virtual
Registration Required.Training provided by Dr. Sara Williams.
KEY COMPONENTS COVERED IN TRAINING:
How to Question, Persuade and Refer someone who may be suicidal
How to get help for yourself or learn more about preventing suicide
The common causes of suicidal behavior
The warning signs of suicide
How to get help for someone in crisis
Tuesday, September 12, 2023
Self-Care Under the Stars: Guided Mindfulness Activities
12:30-1:30pm, Rausch Planetarium
Up your mindfulness game with mindfulness activities designed to help you connect to the earth and the world around you.
Wednesday, September 13, 2023
Crafting Mindfulness
9/13, 12-1:30, Red Barn
Join us outside the Red Barn for some mindfulness-centered arts and crafts!
Thursday, September 14, 2023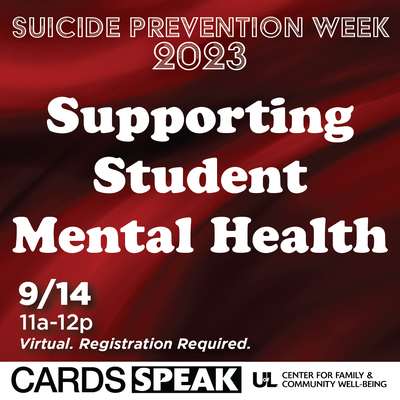 Supporting Student Mental Health Training for Staff & Faculty
 Learn how you can support students' mental health and well-being in this training provided by Dr. Becky Antle.
Nurturing the Mind & Body
Join us for an instructional session with a mobile kitchen in which you will learn recipes for nurturing the mind and body.
Registration required. Limited to 8 participants.
Mental Health Movie Night - Dungeons & Dragons: Honor Among Thieves
6:00-8:30pm, SAC Floyd Theatre
Join us for activities, refreshments, and a showing of Dungeons & Dragons: Honor Among Thieves (2023). Free with UofL ID.
Friday, September 15, 2023
Puppy Time!
Join us for some sweet, soft puppy love in the 2020 Quad! In partnership with KY Humane Society.