Kentucky's Hidden Past Rediscovered
Heritage Project aims to preserve and share the state's LGBTQ history.
Prof. Cate Fosl (Women's & Gender Studies) led a "History Harvest" at UofL's Ekstrom Library to collect memorabilia, documents, and oral histories from LGBTQ Kentuckians and their friends in an effort to understand more about 20th century life in Kentucky
Heritage Project aims to preserve and share the state's LGBTQ history
Greg Bourke came out while he was an undergraduate in the College of Arts & Sciences. But only to himself – it was 1976 and still illegal to be gay. It wasn't until 2003 that the Supreme Court reversed its 1986 decision and invalidated sodomy laws in all 52 states, eliminating a major barrier to gay sexual expression.
But in the spring of 1976, being gay "was not the kind of thing you could say you were proud of," Bourke said. "There was no safe place on campus or movement, there was not a sense that you could talk openly and that you would be welcomed."
Bourke started at UofL in the fall of 1975 as an accounting major. But he discovered another path through his undergraduate courses that might have more to offer besides credit hours.
He went on to earn a BA in Sociology in 1979, an MBA from the University of Kentucky, and an MA in Sociology from Notre Dame.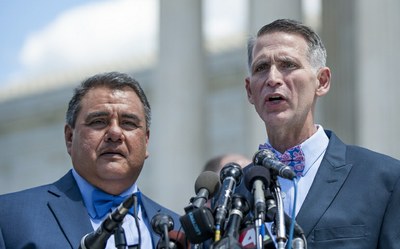 Greg Bourke (right) and his husband Michael DeLeon in Washington D.C. in 2015. The couple are longtime advocates for LGBTQ rights, and Bourke is a founding member of the UofL LGBTQ Alumni Association.
Now in addition to his day job at Humana, Bourke serves as a founding member of UofL's LGBTQ Alumni Association and works as an advocate for lesbian-gay-bisexual-transgender-queer (or LGBTQ) rights. He and his husband Michael DeLeon were plaintiffs in the 2015 landmark Supreme Court case Obergefell vs. Hodges, which ultimately granted same-sex couples the right to marry.
He and many others shared their stories as part of the Kentucky LGBTQ Heritage Project. The project, led by the Fairness Campaign, is a collaborative effort between the College of Arts & Sciences' Anne Braden Institute for Social Justice Research, the Williams-Nichols Collection in UofL's Special Collections – established in 1994 and one of the leading archives of LGBTQ materials in the country, the Kentucky Heritage Council – State Historic Preservation Office, and Preservation Louisville.
Prof. Cate Fosl (Women's & Gender Studies, and director of the Anne Braden Institute) is research director on the project, working with a group that includes Prof. Dan Vivian (History) and a team of student researchers. They are composing a historical context narrative for the project that will act as the key in identifying places of LGBTQ significance in the state, as well as amending two National Register of Historic Places (NRHP) sites in Louisville that housed two of the state's earliest gay bars.
The first step in writing a narrative of LGBTQ life in Kentucky were three "history harvests" held in Hindman, Lexington, and Louisville. At the events, Fosl, graduate student Wes Cunningham (History) and undergraduate Kayla Reddington (History) collected memorabilia, documents, and oral histories from LGBTQ Kentuckians and their friends in an effort to understand more about 20th century life in Kentucky.
"You can't find out about the places without finding out about the people," Fosl said. "This is the first step in documenting and lifting up LGBTQ heritage in Kentucky."
One of the goals of the project is to develop a statewide inventory of landmarks in the LGBTQ community where historical markers can be installed, or already existing markers can be amended. Preservation Louisville and the Fairness Campaign applied for the grant from the National Park Service and U.S. Department of the Interior. Kentucky is one of only two states awarded the grant. The other was given to New York, which received the first LGBTQ historic designation last year at The Stonewall Inn in Greenwich Village. The National Register of Historic Places is focusing on underrepresented communities that need to be better represented in the national register, according to Fairness Campaign Director Chris Hartman.
The historical context narrative being crafted by Fosl and her team will focus on places significant to LGBTQ heritage across the Commonwealth of Kentucky, including the two NRHP sites in downtown Louisville – the Henry Clay Building on South Third Street and Whiskey Row on Main Street. The Henry Clay housed the Beaux Arts Cocktail Lounge, which was gay "friendly" if not strictly gay, from the 1940s through 1955, and The Downtowner, then thought of as the gay bar in Louisville, which opened in Whiskey Row in 1975, according to Prof. Vivian (History).
"These kinds of establishments were really important, it was the difference between loneliness and isolation, and a community," Vivian said. "There is a story worth recognizing here."
And stories determine the focus of history. The stories being crafted by Fosl, Vivian, Cunningham, and Reddington will help preserve and share the history of LGBTQ life in Kentucky. When Fosl and her team complete the narrative, it will be the first of its kind in the nation.
Though there is still more work to be done, as is evidenced by the recent vandalism near the LGBTQ Center on UofL's Belknap Campus, the university remains a touchstone for LGBTQ students in Kentucky, and the rest of the South. The university opened the first staffed LGBT Center in Kentucky in 2007, hired Brian Buford as the first director of LGBTQ services that same year, and launched the Bayard Rustin themed housing community for LGBT students and allies, the first of its kind in the south. In 2009, the A&S Department of Women's and Gender Studies inaugurated a minor in LGBTQ studies.
"It's so important to know your community, your history and what those before you did to help create the world you live in. Earlier this semester we invited a group of alumni to meet with some of the students who live in our Rustin Themed Housing Community and share stories," Buford said. "It became a very beautiful and emotional moment, as the students expressed their appreciation to the alums for paving the way for them to experience such a welcoming, inclusive campus."
Uofl, and Kentucky, has come a long way since Greg Bourke graduated in 1979. As the LGBTQ community becomes increasingly integrated into mainstream America, it is vital to collect the history of LGBTQ life and the struggle for LGBTQ rights before it is lost. Initiatives like the Kentucky LGBTQ Heritage Project and the history context narrative being authored by Fosl and her team are designed to ensure that people today know about those that paved the path before them.
"If this history doesn't get captured now, it's not going to get captured at all," Bourke said. "When I was a student, you had to go to great lengths to avoid the appearance of being gay. The feeling that I get on campus now is a sense of support, and a real sense of pride."