Department of Pan-African Studies turns the big 4-0!
Adapted from UofL Today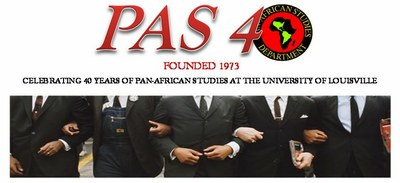 The Journal of Pan-African Studies has given UofL's Pan-African studies department an anniversary present – a special issue commemorating its 40 years.The department, which offers doctoral, master's and undergraduate degrees, kicked off its anniversary last fall. A part of the College of Arts and Sciences, it fosters the multidisciplinary study of the societies and cultures of Africa and people of African ancestry throughout the world.

Carson Byrd, PAS assistant professor, was guest editor of the journal's current issue, which featured articles by 10 PAS faculty members, including department chairman Ricky Jones.  "This is great recognition not only for PAS but for the University of Louisville family as a whole," Jones said. "We offer heartfelt thanks to all our colleagues and friends who have supported us for the last four decades. We look forward to many more."