Our History
The College of Arts & Sciences
A&S History: More than 100 Years of Learning ▾
In 1907 the University of Louisville, a semi-private institution at the time, established the Academic Department , which contained the College of Liberal Arts and the Graduate School of Liberal Arts.  With 104 students, 15 departments and 3 undergraduate and graduate courses of study, the College was first located at 119 West Broadway in a converted private home that once belonged to steamboat Captain Silas Miller.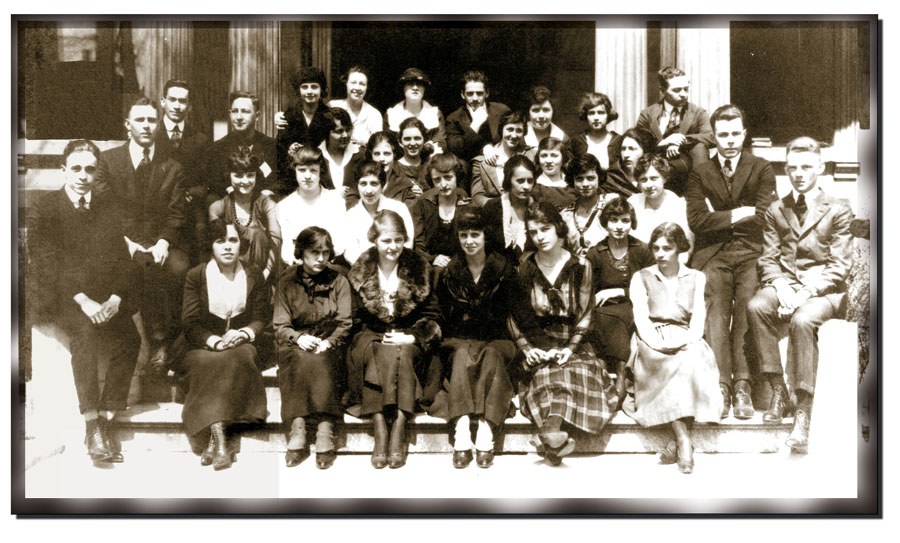 The first graduating class in arts and sciences, 1911

In 1923, the University acquired the property for Belknap Campus and A&S moved to Gardiner Hall.  Built in 1872, it is the oldest surviving building on campus.

In 1951, Louisville Municipal College, a separate and segregated four-year liberal arts college administered by the UofL Board of Trustees, closed.  Most LMC students entered the College of Arts and Sciences.

In 1970, the University of Louisville entered the state university system as Kentucky's second-largest public university.  This had a profound effect on the University and on A&S and, by the 1980s, A&S enrollment had almost doubled.
A&S-Faithful to its Commitment to a Liberal Arts Education ▾
Since the College's founding in 1907, more than 50,000 degrees have been awarded to A&S majors.  The College of Arts and Sciences has grown to be UofL's largest academic unit with:
21 departments in three divisions: Humanities, Natural Sciences and Social Sciences
Approximately 9,000 students
More than 375 full-time faculty
More than 70 degree programs
More than half the total credit hours taught at UofL
Faculty that produce more than 400 refereed publications per year
Faculty that receive more than $8 million in research grants per year
Classrooms, offices and laboratories in more than 20 buildings
Despite the College's remarkable growth, it has held constant in its commitment to the value of an education in the liberal arts and sciences for all students.  In fact this commitment, as expressed in some of the early descriptions of the College's mission, holds equally true today.

The 1909-1910 Catalog stressed the need to continue support for the recently established College of Liberal Arts saying that Louisville cannot afford to neglect this opportunity "for advancing higher education, broader culture, and better citizenship."

The 1953-54 Catalog describes these objectives of the College:
To assist students in the development of exact, critical, and independent thinking, and to provide them with an insight into contemporary scholarship;
To further the general education of students with special emphasis on an awareness of civic and international responsibilities;
To provide students with a cultural foundation for further personal and professional growth.