Dr. Martin Luther King, Jr. Day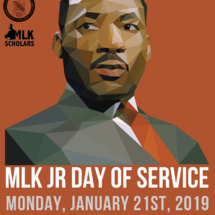 Events in honor of the life and legacy of Rev. Dr. Martin Luther King, Jr., and intended to educate the UofL campus and community on the importance of actualizing Dr. King's ideals of social justice, non-violence, education, and service. Events will include:

10am-2pm - MLK Day of Service (meetup in SAC Multipurpose Room)
MLK Day of Service has been an American tradition since 1994. Sponsored by UofL's Engage Lead Serve Board, participants will enjoy free food and a free t-shirt.

No registration required.

Volunteers should meet in the SAC Multipurpose Room at 10am to sign up for a service site. The UofL Sustainability Council is hosting an on-campus service site at our volunteer-powered community composting project. At 10:30am, we will feature a speaker, and at 11:00am, we will provide transportation to service sites. Participants will be back on campus by 2:00pm. We encourage you to join us and become part of the UofL community in making MLK Day a "day on, not a day off." Contact talktous@uoflelsb.org with any questions!
1:00pm - Dr. Martin Luther King, Jr. Day Celebration: The Beauty of Diversity, The Courage to Serve (The Playhouse)


Please join the UofL African American Theatre Program for our annual Dr. Martin Luther King, Jr. Day celebration. This year we will be partnering with the Yearlings Club to bring you an exciting program that you don't want to miss. This event is free and open to the public!